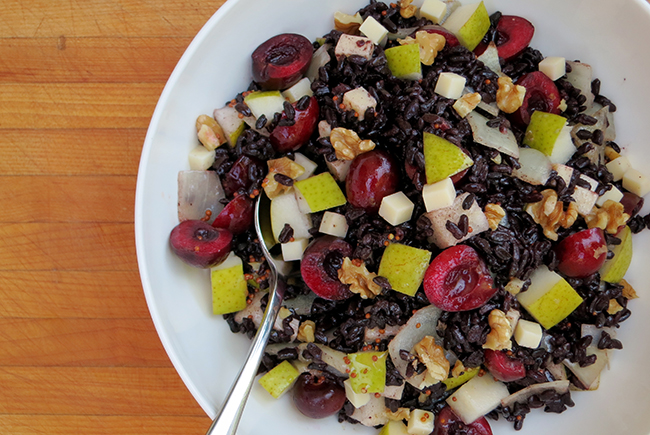 This simple and hearty salad is full of fresh fruit and contains fiber. Its lightly sweet flavor comes from the ripe pears, cherries, and just a touch of fresh-squeezed orange juice in the dressing. It also features wonderful savory notes courtesy of the rice, gouda cheese, and walnuts. Put them all together and the result is a beautiful salad full of unique flavors, colors, and textures.
Try this salad for dinner on a hot summer day. Cook the rice and roast the onions in the morning and you'll only need 10 minutes to complete this dish in the evening. Serve the salad alongside something simple from the grill, or as a vegetarian meal in and of itself.
Ingredients
Salad
1 small sweet onion, large dice
1 tablespoon canola oil
4 cups cooked and cooled black rice (or use any type of rice you like)
20 black cherries, halved and pitted
3 ounces gouda cheese, cut into small cubes
⅓ cup walnut pieces
2 ripe USA Pears, such as Bartlett or Anjou, medium dice
Dressing
¼ cup fresh-squeezed orange juice (from about one orange)
2 tablespoons whole grain mustard
2 tablespoons canola oil
½ teaspoon salt
Directions
Note: You will need to prepare and cool the rice before starting this recipe.
Preheat the oven to 375 degrees. Place the diced onion in a small baking dish and toss with the tablespoon of canola oil. Roast the onion for 25-30 minutes, stirring once during cooking. Remove and allow to cool. In the meantime, prepare the dressing by combining the ingredients in a small jar and shaking vigorously. Set aside until ready to use. In a large bowl, combine the cooked and cooled rice, roasted onion, halved cherries, gouda, walnuts, and pear slices. Shake the dressing again to combine and pour over the rice mixture. Gently toss the ingredients together. Serve the salad at room temperature or return to the refrigerator to store and serve cold.
prep time: 40 minutes
yield: 4 – 6 servings