An apple for the teacher? Why not a pear?! I love pears, so I get especially excited during this time of year. Pear season is kicking off (look for Bartletts, Red Bartletts and Starkrimsons!), and before I share some of my favorite ways to enjoy pears, I thought I would tell you a little about the nutritional benefits of this healthy, in-season fruit.
Pears pack fiber – If you are trying to improve your fiber intake, then pears are your better choice. A medium pear provides about 6 grams, which is a great way to help you meet your daily fiber goals. Plus, fiber helps you feel full and satisfied longer, so when it comes to smart snacking, fiber is a must.
Pears have excellent skin – with pears it's best to eat the skin for the better nutrition win! Rich in a variety of plant compounds like flavonoids, as well as providing fiber, I recommend enjoying your pear skin and all!
Pears offer variety – different flavors, colors and textures for different dishes means there are so many ways to bring pears into your better nutrition plan more often.
So, with all that good news here are some of my favorite ways to snack on pears – perfect to help power parents and kids through the new school year:
Slice 'em up and use them as "toast" or "crackers" for a better nutrition upgrade more often.
I love topping mine with nut butter, delicious spices (like turmeric) and cacao nibs for extra crunch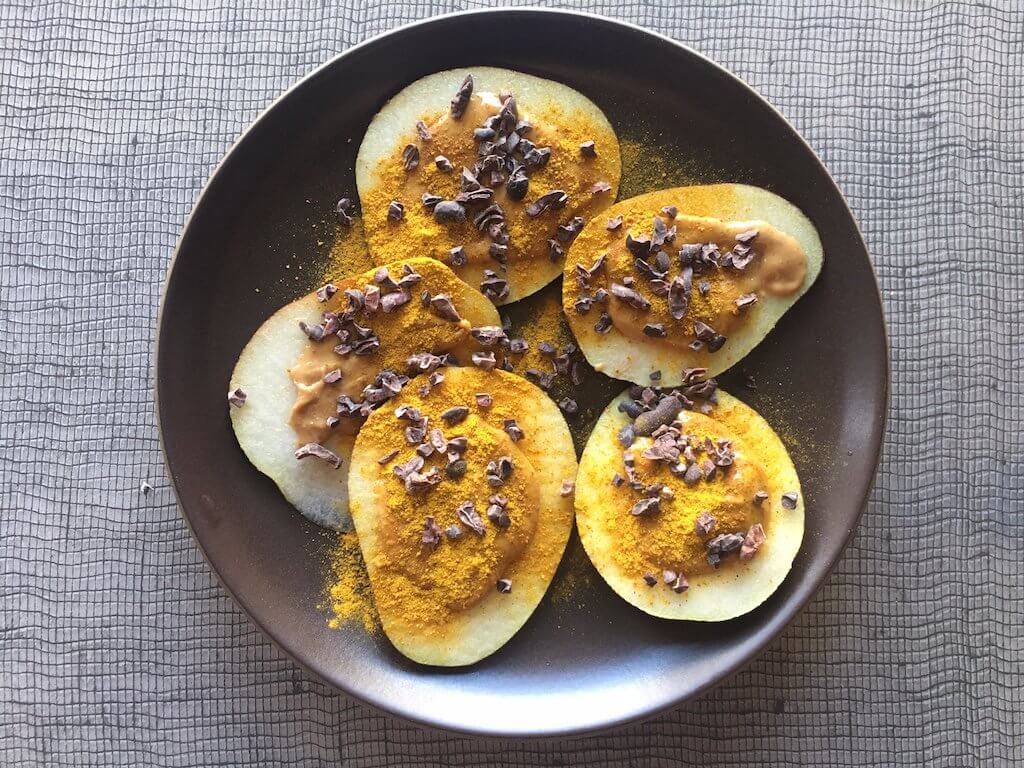 Take slices, add nut butter or cheese or dairy-free nut cheese and make mini sandwiches to take with you as an easy midday better nutrition pit stop and a great after school or pre-workout snack.
Pear Egg Boats
Halve a pear, scoop out a little space in the center, add an egg and bake/broil.
Top with cayenne pepper and/or a pinch of sea salt. Share on Instagram or just eat it on up J
Dice 'n Swap
Move over croutons, pear cubes just took your salad from a 50 to 100% delicious and packed with better nutrition.
You can roll your pear cubes in oil and some spices and bake them for a different taste.
Pear Dippers
Slice firm pears lengthwise to make dippers
Dip in yogurt, hummus, and even chocolate (oh and you can freeze these too for an awesome bite later on!).
Browse more than 400 pear recipes here!
Ashley Koff RD is a raving fan of pears (I love writing about myself in the third person 😉 but I am also told its proper for legal disclosures). She is a paid sponsor for this post by USA Pears