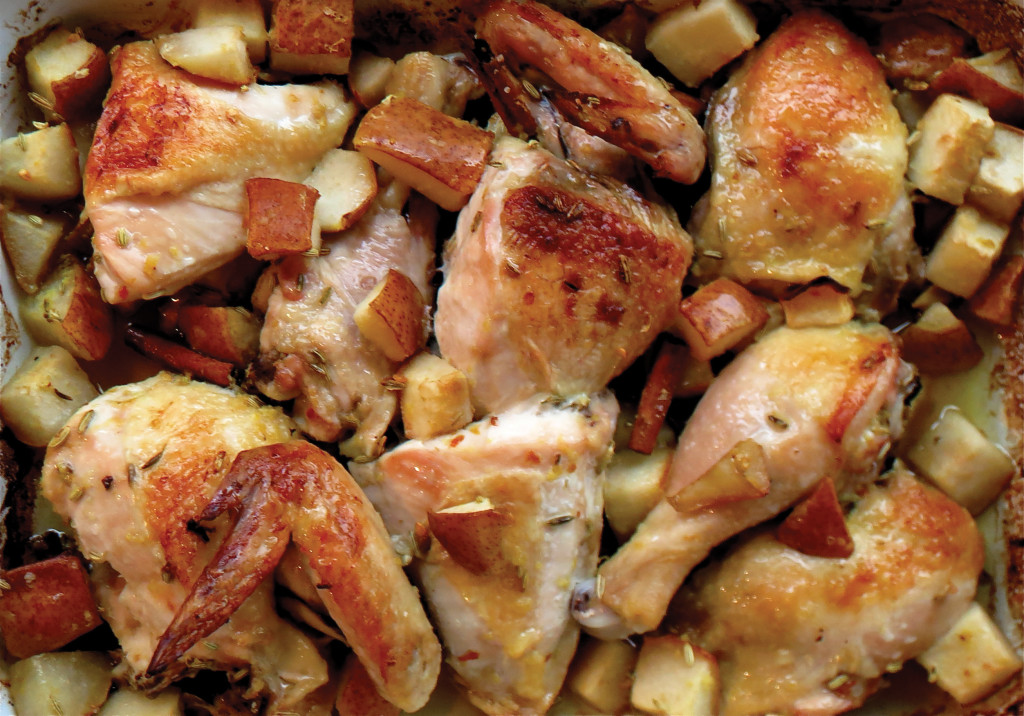 Here is a satisfying cold-weather main dish with a short prep time. Ripe pear slices and warming spices add a new twist to a classic roasted chicken dinner. Serve this dish with a pot of steamed Basmati rice and simple salad (dressed with Pear and Roasted Carrot Vinaigrette, perhaps?).
Ingredients
One 3.5 – 4 pound roasting chicken, cut into 8 pieces
1 tablespoon whole fennel seeds
6 whole cloves
2 cinnamon sticks, broken in half
4 – 8 dried Thai bird chiles, crushed (or substitute a few pinches of chili flakes)
2 tablespoons brown sugar, packed
2 teaspoons freshly grated ginger
2 teaspoons lemon zest
1 teaspoon coarse salt
2 tablespoons canola oil
2 firm ripe USA Pears, such as Red Anjou or Bartlett, cut into 8 – 10 slices each
Directions
Preheat the oven to 400 degrees. Place the cut up chicken into a large bowl, patting it dry with paper towels if necessary. In a small bowl, combine the spices, chiles, ginger, lemon, sugar and salt and mix to combine. Pour the oil over the chicken and toss to coat. Add the spice mixture and the pear slices and mix gently to distribute. Spread the chicken and pear mixture out into a 9 x 13 baking dish in a single layer, placing the chicken pieces skin-side up. Roast the chicken for 30 minutes at 400 degrees, then reduce the heat to 350 degrees and cook for an additional 20 – 30 minutes or until the chicken reaches an internal temperature of 165 degrees. Serve immediately with the pear slices, pan juices, and spices spooned over the top.
prep time: 15 minutes plus roasting time
yield: 4 servings