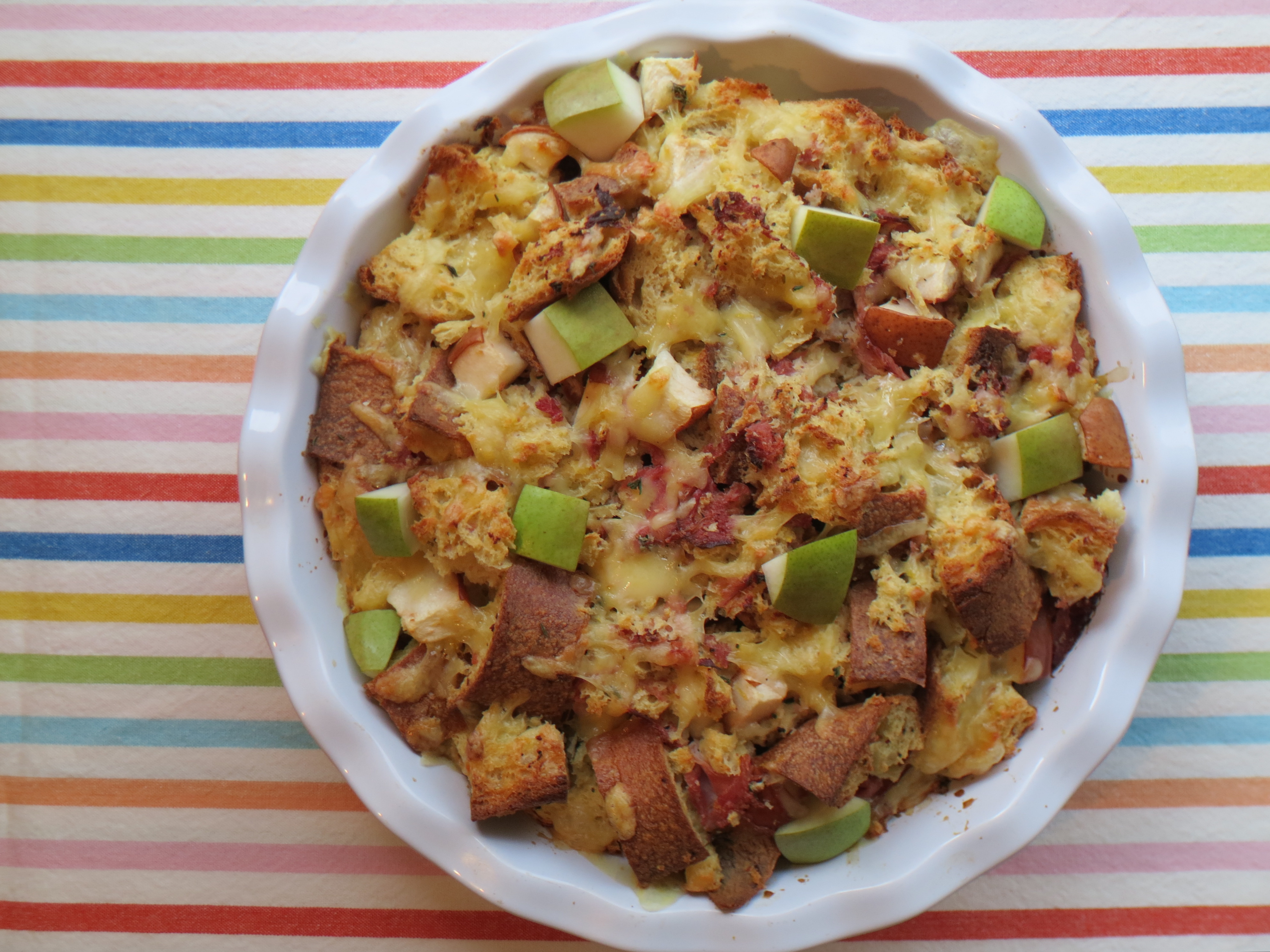 This delicious savory-and-sweet strata is the ideal recipe for this holiday season. It's so versatile that it can act as the main course or a side dish for any meal—breakfast, lunch, or dinner. Ham, gruyere cheese, and fresh thyme add a rich, savory element, and pears and real maple syrup add a subtle sweetness that creates the perfect balance. Put this together the night before and pop it in the oven in the morning for an easy but elegant brunch to feed the whole family.
Ingredients
Butter for greasing pan
2 ½ cups half and half
6 large eggs
½ teaspoon salt
1 teaspoon orange zest (from about half an orange)
½ teaspoon fresh thyme, roughly chopped
3 tablespoons pure maple syrup
10 loose cups good-quality, artisan bread, cut into 1 ½ inch cubes (from one small loaf)
⅓ pound best quality ham, thinly sliced
2 ripe USA Pears, such as Red or Green Bartlett, cut into large cubes
1 cup (loose) grated gruyere cheese (vintage sharp cheddar would be great, too)
Directions
Preheat oven to 375 degrees and lightly butter a 9 x 13 baking dish or large casserole. In a large bowl combine the half and half, eggs, salt, orange zest, thyme, and maple syrup and whisk to combine thoroughly. Add the bread cubes (be sure not to use more than 10 cups or the strata will be too dry) and toss to combine. Next, add the ham (tearing into smaller pieces if necessary), the pears, and about half of the cheese. Toss once again to evenly distribute the ingredients. Transfer the mixture and all of its liquid to the prepared baking dish and sprinkle with the remaining cheese (at this point the strata may be covered and refrigerated overnight). Bake the strata for 45-50 minutes, or until nicely browned and very hot in the middle. If baking the strata directly from the refrigerator, add 15-20 minutes to its cooking time, covering it loosely with foil for the additional time to prevent over-browning.
prep time: 20 minutes plus baking
yield: 6 – 8 servings