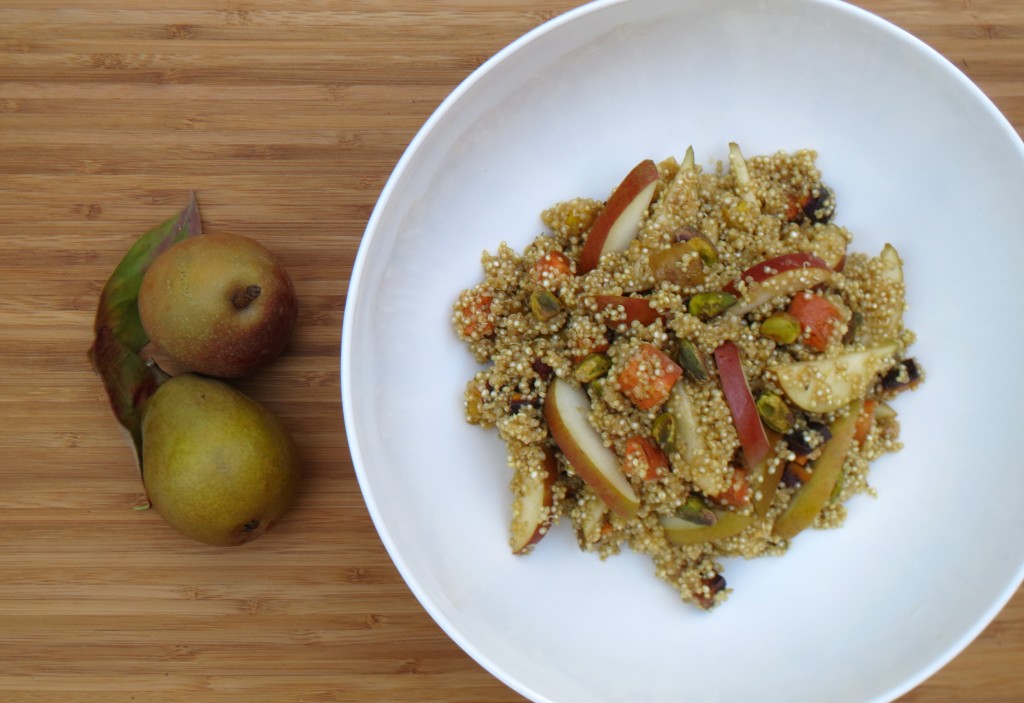 Fall is in the air, and all types of fresh pears are arriving at local grocers. This pear and quinoa pilaf makes a healthy and filling side dish or lunch. I love finding new ways to use quinoa, and roasted carrots and ginger make a wonderful savory contrast to the honey sweetness of the pears in this dish. Try this recipe with small and colorful Seckels if you can find them, but if not, any firm-ripe pear will do!
Ingredients
2 cups multicolored carrots, medium dice
1 tablespoon olive oil
1 cup quinoa, rinsed
1 ¼ cups vegetable broth
2 teaspoons fresh ginger, grated
Half an orange, zest and juice
6 firm-ripe Seckel USA Pears (or substitute 2 large pears), sliced or diced
¼ cup roasted and salted pistachios
Salt and freshly ground black pepper
Directions
Preheat the oven to 375 degrees. Place the diced carrots in a small baking dish and toss with the olive oil and a generous sprinkling of salt and pepper. Roast in the oven for 18-20 minutes, or until soft and lightly browned on the edges. While the carrots roast, place the quinoa, broth, and ginger into a medium saucepan, cover, and bring to a boil. Once boiling, reduce heat to medium low and cook for 8 – 11 minutes, or until quinoa is just tender. Uncover and allow any extra liquid to evaporate, stirring often. Remove the quinoa from the heat.
When the carrots come out of the oven, stir them into the quinoa along with all of the remaining oil from the roasting pan. Add the zest and juice from the orange half, the pear slices, and the pistachios. Stir together gently and season to taste. Serve the pilaf warm or allow to cool—the combination is wonderful served at room temperature as well.
prep time: 30 minutes
yield: 6 servings