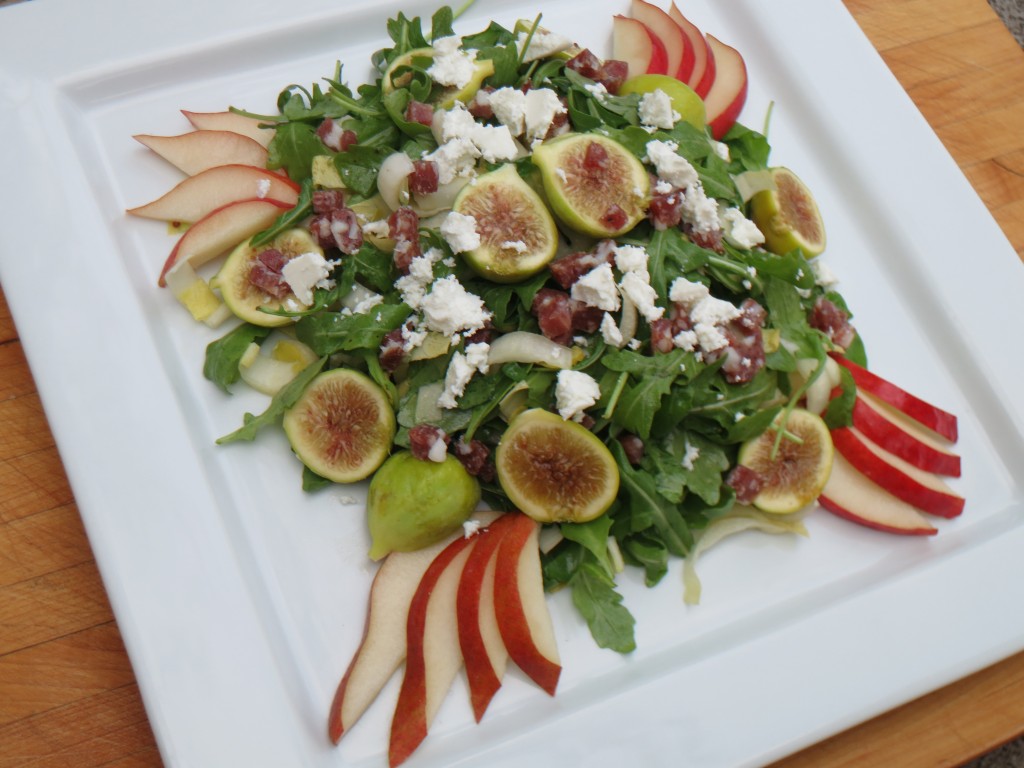 This salad of pears, figs, greens, salami, and cheese is full of subtle flavors that celebrate transition from summer to fall in the Pacific Northwest. Enjoy it with simple pork chops cooked on the grill or a lovely fillet of roasted salmon.
Ingredients
Dressing
¼ cup fresh orange juice (from about half an orange)
2 tablespoons champagne vinegar
2 teaspoons whole grain mustard
½ teaspoon salt
1 tablespoon toasted almond oil
2 tablespoons grapeseed oil
Salad
4 cups baby arugula, packed
2 heads Belgian endive, halved lengthwise and sliced into ½ inch strips
10 – 12 fresh figs, halved or quartered
2 ripe USA Pears, such as Red Bartlett or Starkrimson, sliced
3 oz. mild salami, cut into ¼ inch cubes (or salami slices, cut into strips)
¼ cup ricotta salata cheese, crumbled
Directions
For the dressing: Combine the first four ingredients in a blender. Combine both the oils in a measuring cup and with the blender running, add the oil in a slow, steady stream to emulsify the dressing. Set aside until ready to use.
For the salad: In a large bowl, combine the arugula and sliced endive and toss with about ⅔ of the dressing. Transfer the greens to a platter and place the figs and pears decoratively on and around the greens. Drizzle the remaining dressing over the fruit. Top the salad with the salami, followed by the crumbled cheese.
prep time: 20 minutes
yield: 4 – 6 servings