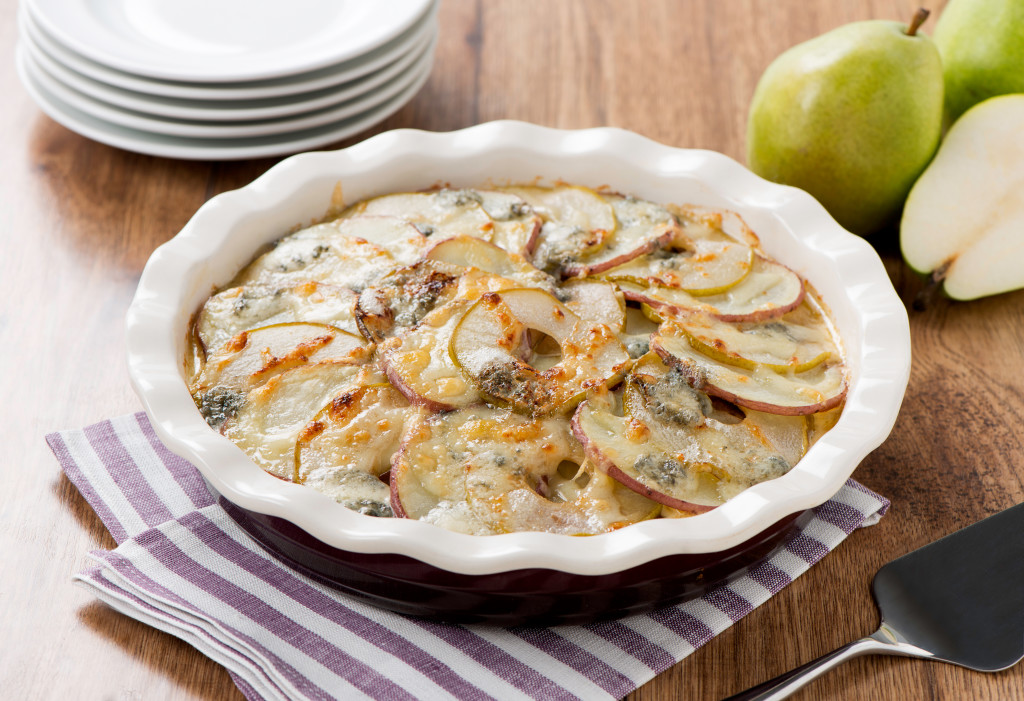 This savory pairing of Pacific Northwest potatoes and pears makes a great side dish for roast pork or barbecued chicken. For a reduced fat approach, substitute chicken stock for half the cream.
Ingredients
2 pounds Anjou USA Pears, cored
2 pounds Northwest-grown red potatoes
2 teaspoons salt, to taste
½ teaspoon white pepper
½ teaspoon oregano
2 tablespoons garlic, minced
1 teaspoon smoked paprika
¼ teaspoon nutmeg
2 cups heavy cream
1 cup Gruyère cheese, grated
½ cup Rogue Creamery Oregonzola or Gorgonzola cheese, crumbled
Directions
Thinly slice pears into rings using a mandoline or knife. Slice potatoes to the same thickness as pears.
In a saucepan, mix seasonings together with cream and carefully bring to a brief boil.
Layer a third of the potato and pear slices in the bottom of a 10 x 2 round baking dish, alternating pears and potatoes. Sprinkle ⅓ of the Gruyere and Oregonzola on potatoes and pears. Repeat layers until complete. Pour cream sauce atop.
Cover baking dish with foil. Bake at 350 degrees for 1 hour or until tender. Remove foil and bake until golden brown and bubbly. Let rest 15 minutes before serving.
yield: Serves 8