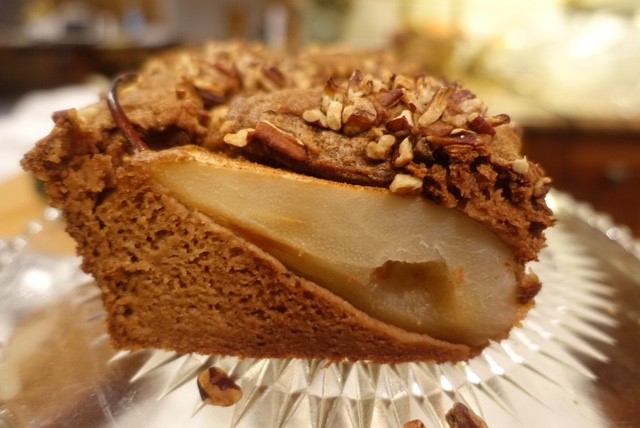 Some "breads" are actually quite sweet and sugary, acting more like cake than bread. This Pear Pecan Pumpkin Spice Bread lets the naturally sweet taste of the pears shine through without any added sugar AND it pears perfectly (pun intended) with savory dishes like a steamy bowl of butternut squash soup. It'll also look beautiful on your holiday table!
Makes 1 loaf
Ingredients:
2 fresh ripe USA Pears – peel, core, cut into pieces
2 fresh USA Pears with stem – cut in half (leave core attached), core and peel
1 cup whole wheat pastry flour
1/2 cup all-purpose flour
1-1/2 teaspoons baking powder
1 teaspoon baking soda
1/2 teaspoon salt
1/2 teaspoon ground cinnamon
¼ teaspoon pumpkin spice
2 teaspoons cocoa – unsweetened
½ cup extra virgin olive light oil or avocado oil
½ cup plain Greek yogurt – plain
1 teaspoon pure vanilla extract
2 large eggs
2 tablespoons maple syrup
2/3 cup almond milk
1/4 cup pecans – chopped
Cooking spray
Directions:
Preheat oven to 350◦F
Coat a loaf pan (9 X 5 inch) with cooking spray. Set aside.
Place pears that are peeled, cored, cut into pieces into a food processor and puree. Set aside.
Spoon flours into dry measuring cups and level with a knife.
In a medium bowl, whisk flours together with the next 6 ingredients (through cocoa).
In a large bowl combine oil, yogurt, vanilla extract, eggs, syrup, almond milk and pureed pears and beat with a hand mixer until combined.
Add flour mixture to above mixture and beat at a low speed just until combined (don't over mix.)
Spoon batter into prepared loaf pan. Sprinkle pecans evenly on top.
Arrange pear halves into the loaf pan, pressing each into batter.
Bake bread in loaf pan for 50 minutes or until a wooden pick inserted in center comes out clean.
Cool in pan for 10 minutes and then carefully remove from pan and cool on wire rack.
Serving suggestion: Serve a slice of bread alongside a steamy bowl of soup, like butternut squash. A perfect pear!