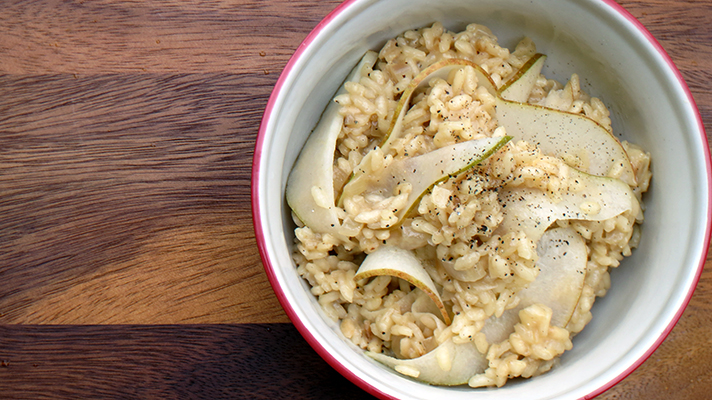 If you haven't yet made risotto part of your regular dinner repertoire, this recipe will help to change your mind. While it's true that risotto requires a little bit of attention, it's the perfect match for roasted meats, which require almost no attention at all. Try this creamy version, packed with the fall flavor of pears and spiked with aged Gouda cheese (you know, the one with those delicious cheese crystals), alongside the simplest roasted chicken. You won't be sorry!
Ingredients
4 cups (1 box) chicken or vegetable broth
2 tablespoons butter
3 medium shallots, small dice
1 cup arborio rice
½ cup dry white wine
4 ounces aged Gouda, such as Beemster Vlaskass
1 firm ripe USA pear, halved, cored, and very thinly sliced
Salt and pepper
Directions
Pour the broth into a medium saucepan, cover, and bring to a simmer. Once simmering, reduce to low heat to keep warm. Melt the butter in a wide sauté pan over medium heat. Add the shallots and cook, stirring often, until translucent. Add the rice and continue to cook, stirring often, until the rice is lightly toasted. Deglaze the pan with the wine, stirring to pick up any bits that may be stuck to the bottom of the pan. Allow the wine to cook for about one minute until nearly evaporated. Add about one cup of the hot broth to the pan and cook the risotto, stirring occasionally, until most of the broth has been absorbed. Add another half-cup of broth and repeat. Continue adding the broth half a cup at a time and stirring frequently until absorbed. Check the rice often for doneness—it may not require all four cups of broth. Once the rice is al dente, stir in the grated Gouda cheese and allow it to melt. Lastly, stir in the thinly sliced pears and season to taste with salt and pepper. Transfer to a warm bowl and serve immediately.
prep time: 30 minutes
yield: 4 – 6 servings