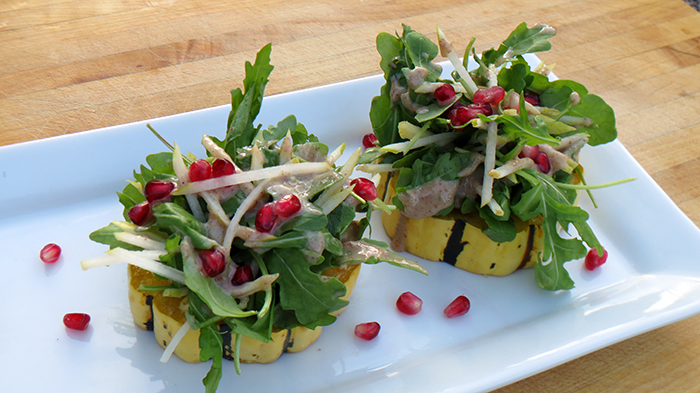 Here is an elegant, seasonal, and colorful first course for your Thanksgiving meal. Sweet roasted delicata squash rings make the perfect base for filling with this bright salad of arugula and thinly sliced pears. Drizzled with a creamy toasted pecan dressing and sprinkled with jewel-like pomegranate seeds, this salad will please everyone invited to your table this holiday season.
Ingredients
Creamy Toasted Pecan Dressing
½ cup pecan halves, toasted
1 tablespoon honey
2 teaspoons packed dark brown sugar
2 tablespoons freshly squeezed lemon juice
1 tablespoon apple cider vinegar
¼ teaspoon salt
½ cup neutral oil, such as sunflower oil
Salad
1 large delicata squash
1 tablespoon olive oil
¼ teaspoon salt
1 firm ripe USA Pear, such as Green Bartlett or Concorde
½ teaspoon freshly squeezed lemon juice
6 ounces baby arugula
¼ cup pomegranate seeds
Directions
For the dressing: Place the toasted pecans into a blender or food processor and pulse until they become a fine powder. Add the honey, sugar, lemon, vinegar, and salt and puree until combined. With the machine running, slowly pour in the oil to emulsify the dressing. Transfer to a jar and refrigerate until ready to use.
For the salad: Preheat the oven to 375 degrees. Trim the ends off of the squash and cut into 6 evenly sized rings. Remove the seeds and place onto a sheet pan lined with parchment paper or a silicone liner. Drizzle with the oil and sprinkle with salt and toss to coat. Arrange the squash in a single layer and bake for 30-40 minutes or until the squash is just cooked through. In the meantime, slice the pear into a fine julienne either by hand or using a mandoline. Place in a large bowl and toss with the ½ teaspoon of lemon juice. Add the arugula and gently toss to mix. When the squash is done, transfer to individual plates and fill each ring with a generous handful of the arugula and pears. Drizzle each salad with the pecan dressing and sprinkle with the pomegranate seeds.
prep time: 50 minutes
yield: 6 servings