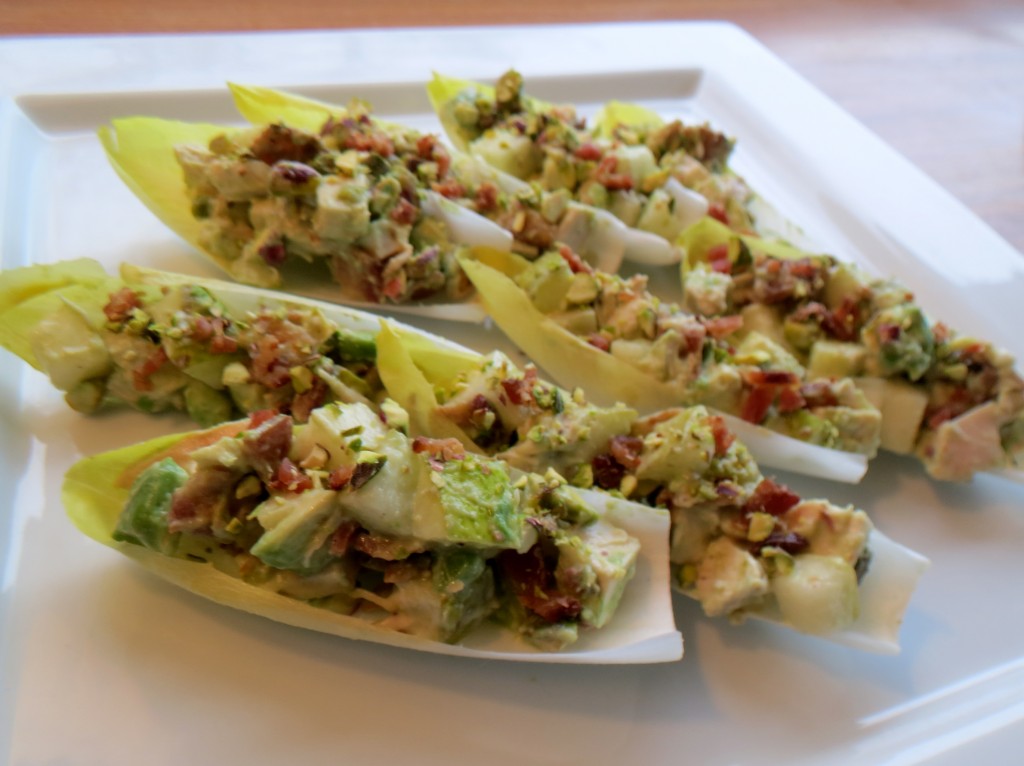 Spring is here, and I'm so relieved! By the end of winter I always feel utterly empty when it comes to cooking ideas, but show me a few blooming flowers and some 60-degree temperatures and new thoughts come flooding in.
I'm so grateful that we can get pears nearly year-round, and USA-grown Anjou pears are not only easy to find, they have a super juicy and bright flavor that is perfect for spring recipes. My new recipe is inspired by spring and is full of beautiful shades of green – sweet Anjou pears, crisp endive leaves, creamy, ripe avocado, and crunchy chopped pistachios.
This recipe will serve you well for many spring occasions. It would be a perfect addition to an Easter or Mother's Day brunch, or make a lovely appetizer for a baby or bridal shower. Use store-bought rotisserie chicken and this lovely recipe will come together in under 30 minutes.
Ingredients
2 heads Belgian endive
4 pieces thick-cut bacon, cooked crispy and chopped
1 ½ cups cooked chicken breast, diced
2 firm ripe Anjou USA Pears, diced
1 ripe avocado, diced
¼ cup shelled pistachios, roughly chopped
1 tablespoon mayonnaise
2 tablespoons freshly squeezed lemon juice
½ teaspoon salt
Directions
Trim the bases from the endive and separate the leaves. Set aside until ready to use. Combine the remaining ingredients in a large bowl, setting aside 1 tablespoon each of the bacon and pistachios for garnish if desired. Gently toss the ingredients together until just combined. Spoon the mixture into the individual endive leaves and arrange on a large platter, leaning the leaves up against one another to steady them. Lastly, sprinkle the remaining bacon and pistachios over the stuffed endive for garnish.
prep time: 30 minutes
yield: about 20 stuffed leaves