Nourishing, naturally sweet and truly delicious, pears are in season which makes it the perfect time of year to celebrate the joy of eating well. National Diabetes Month (November) is coming to a close, but eating diabetes-friendly foods is important year-round and it's my personal mission to change the conversation around the diabetic diet from one of deprivation to one of gratifying intentions to eat to nourish your body. Whole foods, like pears, are nutrient dense and sustaining which makes them easy to love. I also love the concept of "food gratitude" as it offers you a positive way to celebrate the good-for-you foods on your plate like the many reasons to be grateful for pears. The fiber content of the pear, 6 grams per medium piece of fruit, helps to naturally keep blood sugars in check. Plus, they are a good source of vitamin C, a powerful antioxidant that boosts immune function and rids the body of disease causing free radicals. You can enjoy a pear as a snack or incorporate them into more savory meal preparations.
No matter how you enjoy pears, the right ripeness is most important. Check the neck near the stem with your thumb. If it yields to pressure you'll know it is ripe. Here are a few of my favorite snack recipes using pears that are perfect for the diabetic and non-diabetic alike.
Pears with Tahini, Chocolate, Honey and Hemp Seeds
Ingredients:
1 medium pear
1 tablespoon tahini (sesame seed paste)
1 teaspoon honey
1 tablespoon hemp seeds
1 teaspoon dark chocolate shavings
Instructions:
1) Core then slice the pear into 6 equal wedges.
2) Drizzle with tahini and honey.
3) Sprinkle the wedges with the hemp seeds and dark chocolate shavings.
Savory Yogurt Pear Parfait
3/4 cup plain low-fat Greek yogurt
½ teaspoon orange zest
½ teaspoon honey
½ cup diced pears (tossed with 1 teaspoon lemon juice)
1 tablespoon unsalted chopped hazelnuts
1/2 teaspoon Za'atar
1/2 teaspoon olive oil
Pinch of sea salt
Instructions:
1. In a small bowl, combine the yogurt, honey and orange zest.
2. Top with pears, hazelnuts, za'atar, olive oil and sea salt.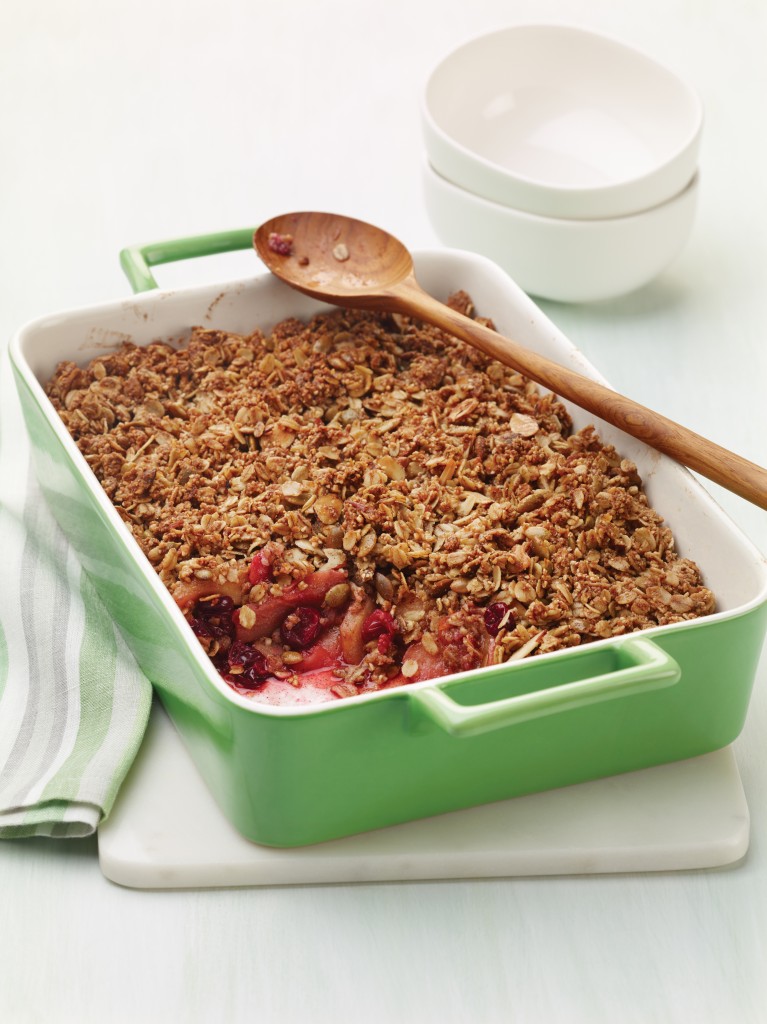 Cool Weather Cobbler (From my new cookbook, Whole Cooking and Nutrition)
Ingredients:
For the Filling:
6 medium pears or apples, peeled, cored, and sliced
1 cup fresh or frozen cranberries and/or pitted cherries
1 tablespoon arrowroot powder
1 teaspoon ground cinnamon
1 teaspoon grated fresh ginger
1 teaspoon freshly grated orange zest
For the Topping:
1 cup almond flour
2 cups gluten-free rolled oats
1/2 cup whole-wheat flour (or gluten free flour)
1/4 cup unsalted, toasted pumpkin seeds
1/4 cup raw, unsalted sliced almonds
1 teaspoon ground cinnamon
1/4 teaspoon fine sea salt
2 tablespoons melted coconut oil or canola oil
1 tablespoon extra-virgin olive oil
1/3 cup pure maple syrup (preferably grade B)
Instructions:
1) Preheat the oven to 350 degrees.
2) For the filling, toss together the fruit, arrowroot powder, cinnamon, ginger, and orange zest in a medium bowl. Spread the filling in the bottom of an 8×12-inch baking dish.
3) To make the topping, stir together the almond flour, oats, whole-wheat flour, pumpkin seeds, almonds, cinnamon, and salt in another bowl. Drizzle in the coconut oil, olive oil, and maple syrup and mix until evenly combined.
4) Crumble the topping over the filling and bake for 40 minutes, or until the topping is brown and the fruit is bubbling. Remove cobbler from the oven and set aside to cool for 10 minutes before serving.
Ginger-Cardamom Pear Sauce with Pistachios (From my new cookbook, Whole Cooking and Nutrition)
Serving Size ½ cup
Ingredients:
2 pounds ripe pears
1 cup water
2 tablespoons freshly squeezed lemon juice
1 teaspoon ground cardamom
1 teaspoon fresh ginger
6 tablespoons roughly chopped pistachios
Instructions:
1) Combine all the ingredients except for the pistachios in a medium saucepan over medium high heat.
2) Cover the pan and bring the mixture to a boil; then reduce the heat to medium – love and simmer for 30 minutes or until the pears are very tender.
3) Remove the pan from the heat and cool slightly.
4) Transfer the mixture to a blender or food processor and puree until smooth (or desired texture).
5) Top each serving with 1 tablespoon of chopped pistachios.