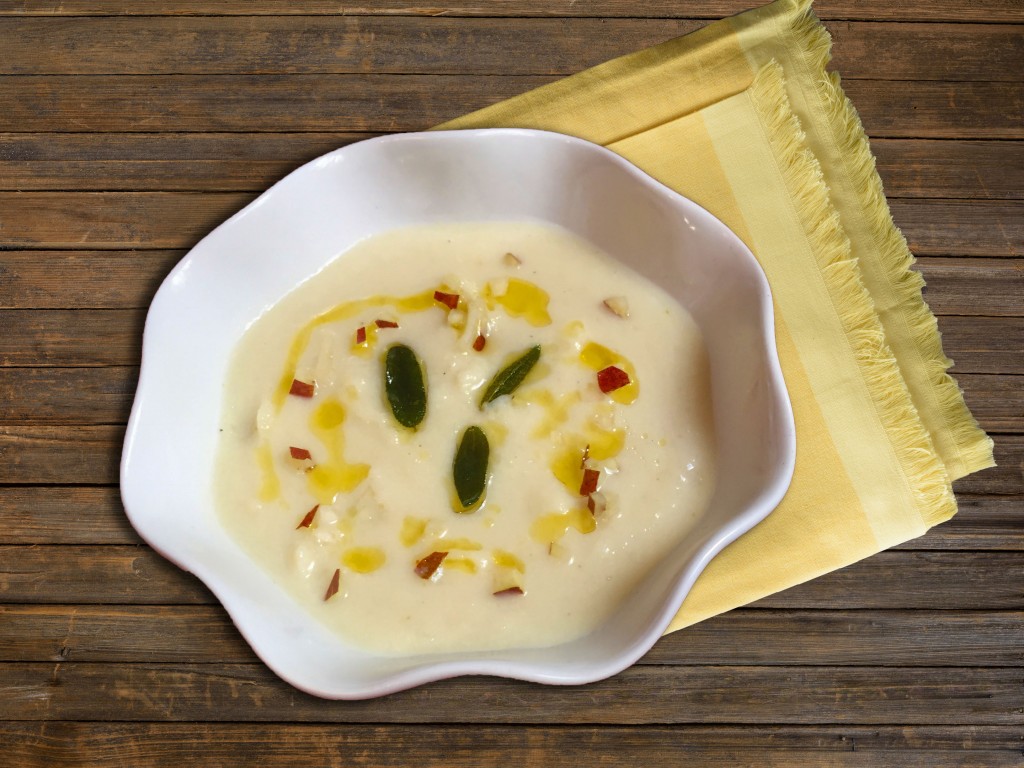 Cauliflower and pear are blended together to form a rich and creamy soup with just a hint of sweetness. A garnish of pear and sage leaves adds a festive touch.
 Ingredients:               
2 Red D'anjou pears
1 head of cauliflower, about 4 cups roughly chopped
2 cups water
1 cup chicken or vegetable broth
1 cup whole milk
1/4 cup grated Parmigiano Reggiano
1 teaspoon kosher salt, divided
2 Tablespoons extra virgin olive oil
10-12 fresh sage leaves
Directions: 
Peel, core and chop one pear, then cut the other pear in half and peel, core and chop one half. Remove the core from the reserved pear half, and finely dice it, and set it aside for a garnish. Place the chopped pear and cauliflower in a soup pot and add the water and broth. Bring to a boil over high heat, then lower the heat and simmer until the cauliflower and pears are very soft, about 10 -15 minutes.
Meanwhile, heat a small skillet and add the olive oil. When hot, add the sage leaves and cook until crisp. Set aside to use as a garnish.
Add the milk, cheese and ½ teaspoon salt to the soup. Puree in a blender in batches or using a stick blender, until very smooth. Taste and add additional salt as needed. Note: amount of salt will depend on the broth you use.
Divide soup into bowls and garnish each with fried sage leaves, a drizzle of the oil and some diced pear.
prep time:10 minutes
cooking time: 20 minutes
yield: Serves 4