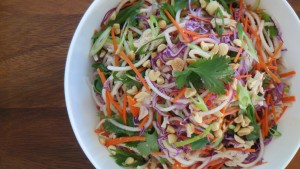 This fresh and fun recipe isn't just chock-full of vegetables, it's chock-full of delicious USA Pears! Firm, fiber-rich Anjou pears stand in for noodles in this salad, and the "noodles" couldn't be more simple to make using a spiral vegetable slicer. Start by shredding leftover chicken (or pick up a rotisserie chicken). Next, shake together the Asian lime dressing, slice the veggies for the salad, and finally, toss it all together with the pear "noodles". Top the salad with toasted, chopped peanuts and get ready to fall in love!
Thai-Inspired Chicken and Pear "Noodle" Salad
For the Asian Lime Dressing:
¼ cup freshly squeezed lime juice
2 tablespoons honey
2 tablespoons water
1 – 2 teaspoons fish sauce, according to your taste
Directions:
Combine the lime juice and honey in a small jar with a tight-fitting lid and shake vigorously to dissolve the honey. Add the water and fish sauce and stir to combine. Taste for seasoning, adding more fish sauce or honey if necessary.
For the Chicken and Pear "Noodle" Salad:
8 ounces cooked, cooled, and shredded chicken breast
2 packed cups finely shredded red cabbage
1 medium carrot, fine julienne
3 scallions, sliced thinly on the bias
3 firm USA Pears, such as Anjou, sliced into a noodle shape on a spiral vegetable slicer
1 cup loosely packed cilantro leaves
a handful of fresh basil leaves, torn
1/4 cup chopped roasted and salted peanuts
Directions:
In a large bowl, combine the shredded chicken, cabbage, carrot, and scallions with about half of the dressing and toss gently to combine. Spiralize the pears at the last moment to prevent discoloration, and add them to the salad along with the cilantro and basil. Toss the salad gently once again to combine. Taste for seasoning, adding more dressing if desired. Transfer the salad to a large platter or bowl and top with the chopped peanuts.
Prep time: 25 minutes
Yield: 4 – 6 servings