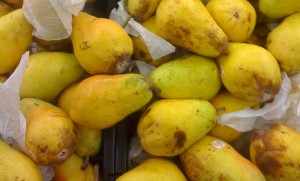 We've all done it – picked up a slightly speckled piece of fruit and put it back in search of a more cosmetically appealing piece. Just like meat and eggs, produce is graded, and most grocery retailers purchase and profit from higher grade produce. According to US Department of Agriculture (USDA) standards, U.S. Number 1 fruit must be "carefully hand-picked, clean, well formed" and free from injury, including bruising. Produce items that don't make the gradearenow being called "ugly fruit and vegetables" – those that are imperfect and less/not profitable – and often end up being discarded. According to the USDA, food waste is the greatest contributor to landfills, 31% of edible food is wasted, and food waste accounts for an estimated annual loss of $161.6 billion.
Interestingly, recent studies suggest that blemished fruit, the stuff not pretty enough for consumption, may have increased antioxidant content and actually be better for us. Antioxidants, such as polyphenols found in pears and other fruit,1-3 molecules that prevent damage to human cells and may play a protective role against disease and illness,4 act as part of a plant's immune system fending off pests, fungi, and disease.5-8 When a plant is injured, polyphenol amounts increase in the affected area to protect and heal the injured tissue as seen in studies on apples, strawberries, green beans, raspberries and walnuts: If we eat these affected areas, we may consume more antioxidants than just consuming healthier portions of the plant.6-8 Some organizations are already onboard with collecting and distributing ugly produce, including California-based Imperfect Produce who recently partnered with Whole Foods to increase sales of ugly produce. And this trend isn't going anywhere – this is the first time the USDA has issued food waste reduction goals.
For fruit, just like humans, perhaps the perfect body doesn't exist – what matters is what is on the inside. Not sure what to do with that bruised pear? Slice it, bake it, or throw it in a smoothie for a delicious meal or snack!
1 http://ajcn.nutrition.org/content/79/5/727.full
2 http://lpi.oregonstate.edu/mic/dietary-factors/phytochemicals/flavonoids
3 http://www.sciencedirect.com/science/article/pii/S0278691510005697
4 http://www.ncbi.nlm.nih.gov/pubmed/18778075
5 http://www.ncbi.nlm.nih.gov/pubmed/20043255
6 http://publik.tuwien.ac.at/files/PubDat_194363.pdf
7 http://onlinelibrary.wiley.com/doi/10.1111/j.1744-7348.2010.00402.x/abstract
8 http://ojs.aas.bf.uni-lj.si/index.php/AAS/article/view/197/126