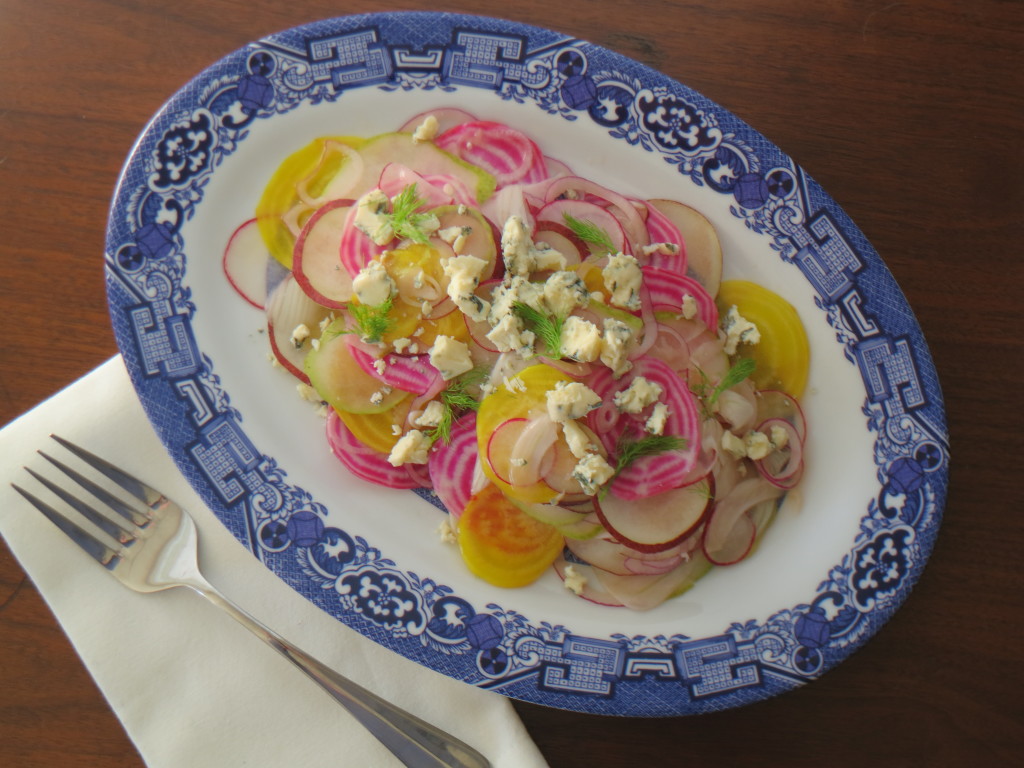 Here is a distinctive salad recipe that uses slightly underripe pears. All of the salad components are shaved very thinly using a mandoline slicer, making the salad not only beautiful, but highlighting the unique texture of every ingredient. Try substituting different seasonal vegetables to make your own version—thinly sliced celery, sweet onion, cabbage, delicata squash, carrots—whatever you like!
Ingredients
Dressing
2 tablespoons tangerine juice (from one juicy tangerine)
1 tablespoon apple cider vinegar
2 teaspoons sherry vinegar
2 teaspoons sugar
½ teaspoon salt
3 tablespoons walnut oil
Salad
1 small red onion, peeled and trimmed
1 fennel bulb (reserve delicate fronds for garnish)
1 small bunch radishes, bottoms trimmed and about ½ inch of the top left on (leaving a little greenery on makes the radishes easy to hold while slicing on the mandoline)
2 raw beets, peeled and trimmed (use golden beets or Chioggas if you can find them—red beets will color the other vegetables)
2 slightly underripe USA Pears, such as Concorde or Anjou
4 ounces of your favorite blue cheese, crumbled
Directions
For the dressing: Combine all of the ingredients in a jar with a tight-fitting lid and shake vigorously.
For the salad: Slice all of the vegetables as thinly as possible on a mandoline slicer, transferring them to a large bowl as you go. This can be done several hours in advance—be sure to cover the bowl tightly with plastic wrap and store in the refrigerator until ready to serve. Just before serving the salad, thinly slice the pears on the mandoline, leaving the core behind. Add the pears to the bowl with the other vegetables along with about two-thirds of the dressing. Gently toss the ingredients together, sliding apart vegetables that remain stacked together with your fingers. Arrange the salad on a platter, drizzling with more dressing, if desired. Crumble the blue cheese on top and garnish with the reserved fennel fronds.
prep time: 25 minutes
yield: 4 generous servings