In New Zealand, one of the most popular ways to enjoy USA Pears is in a salad.  Simple, classic, and delicious!  Our Kiwi friends sent me this enticing recipe and gorgeous photo – I can't wait to whip up this combo.  I've even converted the measurements from metric to make this salad truly effortless to try at home!  As always, you can find more pear salad, ahem, pear-ings in the recipe section of usapears.org.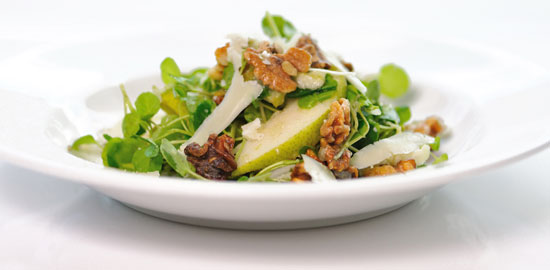 Pear and Watercress Salad
4 USA Green Anjou Pears
3 1/2 oz watercress
2 oz goat cheese gouda
2 lemons
1/3 cup olive oil
1 1/2 oz walnuts
Grate 2 pears into a bowl.  Cut remaining 2 pears into 8 wedges each, removing the core, then add to bowl.  Squeeze juice of 2 lemons onto the pears and add olive oil.  Toss, then add watercress and season with salt and pepper as desired.  Place on plate and sprinkle with walnuts and shaved goat cheese gouda.  Serve and enjoy!
Serves: 4