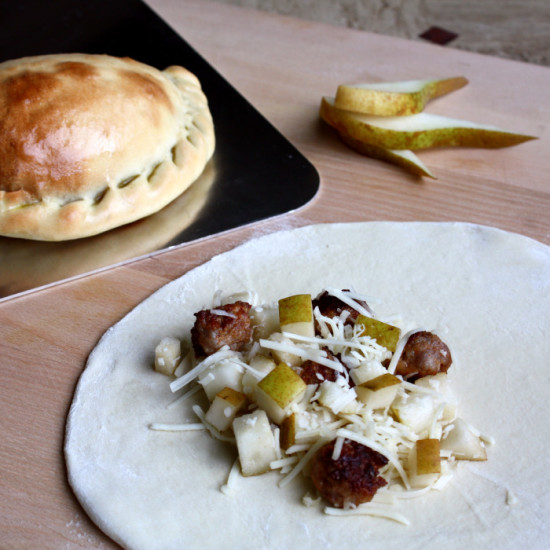 You might find it hard to believe, but I consider calzones a quick weeknight-friendly dinner. So many grocery stores now carry pre-made pizza dough, which can simply be divided into 4 pieces to make calzones. Roll out the dough, fill it with your favorite savory sausage, shredded fontina cheese, and fresh, sweet chunks of pear, and then simply seal and bake. Serve the calzones alongside a simple green salad and you'll have an elegant dinner ready in less than 45 minutes.
Ingredients
1 ball store-bought pizza dough (16 ounces)
Flour for dusting
8 ounces bulk OR 2 link sausages, any flavor, cooked if raw, and cut into bite-sized pieces (I used mild Italian pork sausage)
8 ounces Fontina cheese, shredded
1 ripe USA Pear, such as Bosc or Green Anjou, large dice
Directions
Preheat the oven to 400 degrees. Divide the dough into four equal portions and shape each portion back into a round. Set the dough aside on the counter to warm slightly, covered with plastic wrap. Cook your sausage if you purchased it raw. If bulk, divide the sausage into bite-sized balls and fry in a little olive oil. If you chose links, simmer the links in water for 5 minutes until firm, rinse under cool water, and slice. Gather all of your ingredients to fill the calzones: sausage, shredded cheese, diced pears, and a small bowl of water for sealing the calzones.
Dust a cutting board lightly with flour and roll out one ball of dough into an approximately 8-inch circle. Fill with one-quarter of your filling ingredients, placing them all in one half of the circle. Dip your fingers in the bowl of water and carefully dot water along half of the dough's edge. Gently fold the calzone in half and seal the ingredients inside. For an extra-protective seal, dot water along the top of the semi-circle and fold the dough back onto itself, pressing it with the tines of a fork or pinching into a decorative, scalloped edge. Carefully transfer the calzone to a lightly oiled sheet pan. Follow the same directions for the other calzones, being sure to leave 2 inches of space between each calzone on the sheet pan. Bake for 20-24 minutes, or until lightly browned. Serve the calzones while still warm from the oven.
prep time: 20 minutes
cook time: 25 minutes
yield: 4 calzones