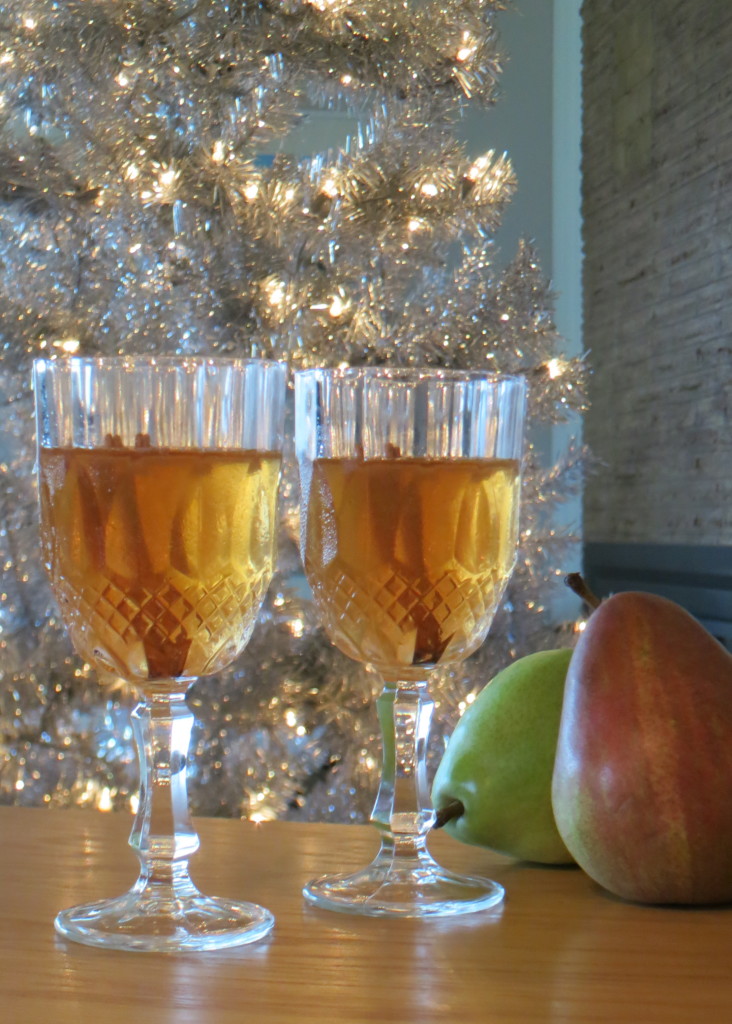 Here is an elegant and delicious cocktail for you to enjoy this holiday season. You'll need to infuse the vodka at least 10 days in advance, so be sure to grab some pears on your next trip to the grocery store! I recommend buying a mix of colorful pears for this recipe – the skins will turn your vodka a lovely honey-rose color as the flavor infuses. Then make a simple syrup with chai tea and shake up this sweet-and-spicy cocktail.
If you find cocktails like this too strong for your liking, try dividing a single recipe between 3 or 4 champagne flutes and topping with a dry, sparkling wine. You'll get all the wonderful flavor with much less alcohol. Cheers!
Ingredients
Pear-Infused Vodka
5 firm ripe USA pears, such as Starkrimson, Green or Red Bartlett, Comice, or Anjou
1 bottle of vodka (750 milliliters)
Chai Simple Syrup
1 cup water
2 chai teabags (choose your favorite chai tea)
1 cup white sugar
Cocktail
2 oz. pear-infused vodka
1 tablespoon chai simple syrup
2 ice cubes
Cinnamon stick for garnish
Directions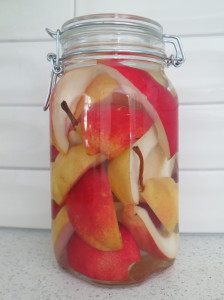 For the vodka: Gently wash the pears under cool water and remove any stickers. Quarter and core the pears and place them into a half gallon glass jar (or divide between 2 quart-sized canning jars). Pour the bottle of vodka over the pears, seal, and set aside to infuse. Allow the pears to infuse the vodka for a minimum of 10 days or up to 3 weeks. To strain, place a fine mesh sieve over a large bowl and pour the pears and vodka over the sieve, pressing gently on the pears with a wooden spoon to release all of the liquid. Store the vodka in a clean glass jar.
For the simple syrup: Place the water in a small saucepan and bring to a simmer. Add the teabags and steep 5 minutes to infuse. Remove the teabags and add the sugar, turning the heat back on to low. Stir until sugar dissolves. Cool the simple syrup and store in a jar in the refrigerator.
For the cocktail: Place the vodka, simple syrup, and ice in a cocktail shaker, cover, and shake vigorously for 10 – 15 seconds. Strain the liquid into an appropriate cocktail glass and garnish with a cinnamon stick.
prep time: 25 minutes total (plus infusion time)
yield: 12 cocktails