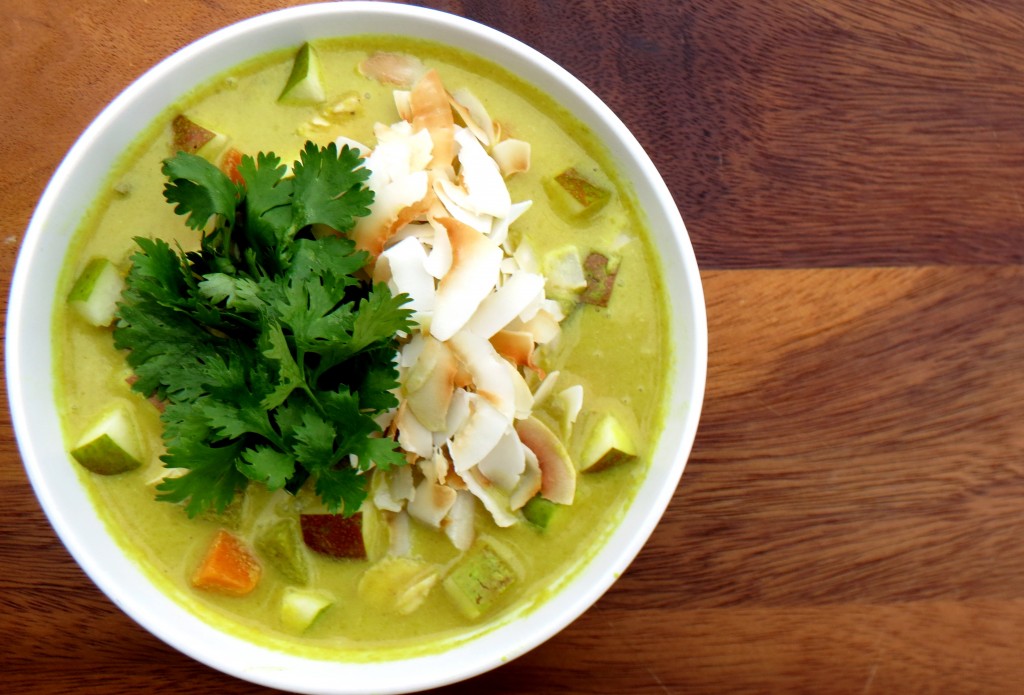 This autumn inspired version of Mulligatawny soup is sure to delight. Colorful pears, tender chicken, sweet potatoes, and rich coconut milk star in this adaptation of a classic English soup with Indian origins. The recipe comes together in about 30 minutes for an easy weeknight dinner, and the leftovers taste even better. Top the soup with crunchy toasted coconut and bright, fresh cilantro leaves.
Ingredients:
2 tablespoon butter, divided
1 pound chicken breast, cut into ½ inch pieces
salt and pepper
1 medium yellow onion, medium dice
3 cloves garlic, minced
2 teaspoon freshly grated ginger
1 ½ teaspoon Madras curry powder
1 teaspoon turmeric
1 teaspoon garam masala
4 cups chicken broth
1 pound sweet potatoes, medium dice
2 firm USA Pears, such as Concorde or Comice, medium dice
1 (13.5 oz.) can coconut milk
¾ cup unsweetened coconut flakes, toasted
1 cup loosely packed cilantro leaves
Directions:
In a large soup pot over medium heat melt 1 tablespoon of the butter. Add the diced chicken and season generously with salt and pepper. Saute for 3 to 4 minutes or until just cooked through. Transfer chicken to a small bowl. Add the remaining butter to the same pan and saute the onion until lightly browned, about 5 minutes. Add the garlic, ginger, and all three spices and saute for one minute more. Next, add the chicken broth to deglaze the pan, stirring to pick up any browned bits. Add the diced sweet potatoes to the liquid, cover, and bring to a boil. Once boiling, uncover and reduce to a simmer, cooking for 6 – 8 minutes or until sweet potatoes are tender. Add the diced pears and continue to simmer for 5 minutes more. Stir in the coconut milk and season the soup to taste with more salt and pepper if necessary. Divide the soup between bowls and garnish each with the toasted coconut and cilantro.
Prep time: 30 minutes
Yield: 4 – 6 servings