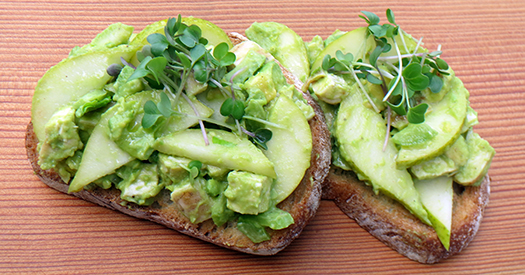 This recipe takes two of everyone's favorite things, pears and avocados, and combines them to create a beautiful and satisfying meal or snack. A nice alternative to a mayonnaise-based chicken salad, this recipe uses mashed avocado and lemon to bring the ingredients together. Enjoy these open-faced sandwiches for lunch or divide the topping between slices of toasted baguette and arrange them on a platter for an elegant appetizer.
Ingredients
1 pound boneless, skinless chicken breasts (about 2 breasts)
1 tablespoons olive oil
Sea salt & freshly ground black pepper
1 large or 2 small avocados
2 tablespoons fresh lemon juice (from about 1 lemon)
2 stalks celery, thinly sliced
2 firm ripe USA Pears, such as Bartlett, thinly sliced
6 – 8 slices artisan bread, toasted
Micro greens, for garnish
Directions
Preheat your grill to medium-high heat. Drizzle the chicken breasts with olive oil and season generously with salt and pepper. Once the grill is hot, cook the chicken breasts for about 5 minutes per side or until just cooked through. Transfer the chicken to a plate and allow to cool slightly. Take half of the avocado (either one small or half of the large) and place in a large bowl with the lemon juice. Mash with the back of a fork until smooth, and season with salt and pepper. Dice the remaining avocado and the chicken breasts and add to the bowl and stir to combine. Lastly, add the sliced celery and pears and toss gently. Toast the bread lightly. Top each slice of toast with about one-eighth of the chicken and pear mixture. Arrange the open-faced sandwiches on a platter. Drizzle each one with olive oil, sprinkle with salt, and top with micro greens for garnish.
yield: Serves 8
prep time: 10 mins
cook time: 10 mins