Every morning, my husband makes oatmeal for breakfast. When he was growing up, his mother would make a pot of oatmeal on the stove for her children, and my husband continues that tradition today by heating together oats, water, milk, and fruit. Whereas my husband loves oatmeal because it's a hearty breakfast and he has fond memories, I love it for its fiber content, especially the soluble fiber content.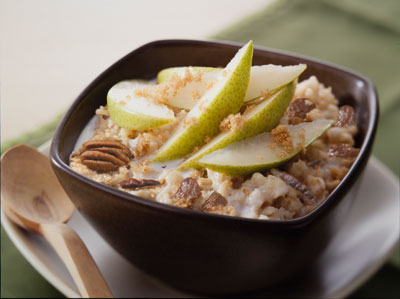 Dietary fiber, which includes both soluble and insoluble fibers, provides many health benefits. Most Americans don't eat enough fiber, and since heart disease is the leading cause of death in the United States, including more fiber in the diet is a step in the right direction for heart health. In particular, soluble fiber found in foods such as oats, fruits, and vegetables may reduce risk for cardiovascular disease when eaten as part of a heart-healthy diet. According to the American Heart Association, soluble fiber reduces LDL cholesterol (the so called "bad" cholesterol) beyond levels achieved by a traditional cardiac diet that only limits cholesterol, saturated fats, and trans fats.
Lately, my husband has been adding cinnamon, diced pear, and a dash of honey to his oatmeal. This is a great choice for his heart, because pears are an excellent source of fiber! Each medium pear contains 6 grams of fiber, or 24% of the recommended daily value for Americans. For heart health, try adding more fiber to your diet by eating pears and other fruits, vegetables, and whole grains every day.