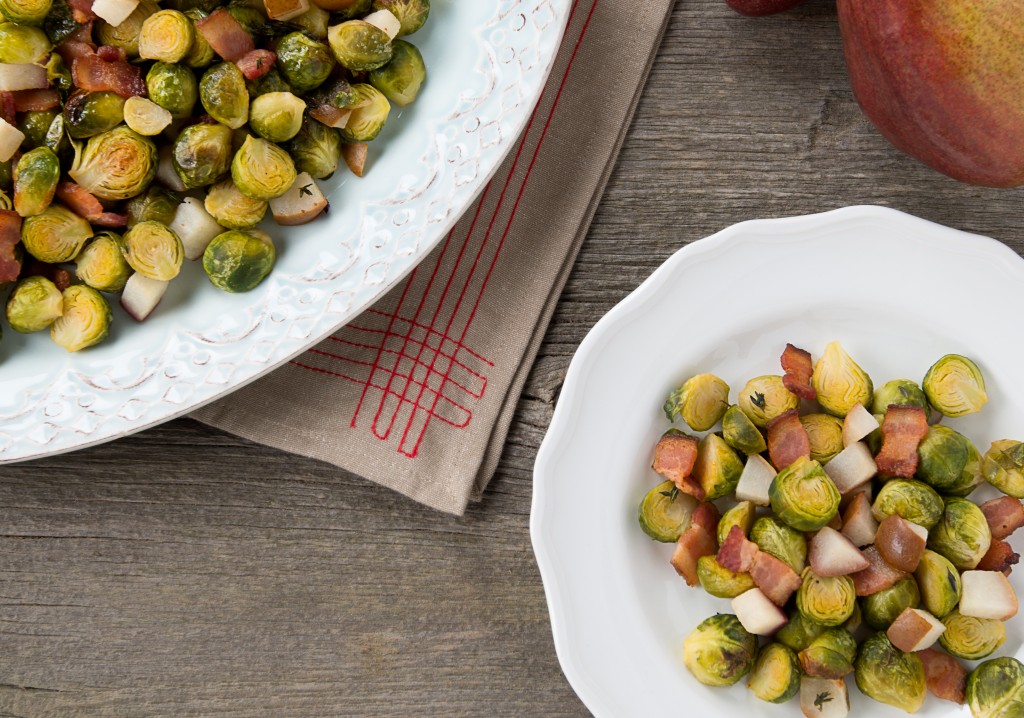 Brussels sprouts are one of my favorite winter vegetables, and it won't be long until they disappear from produce shelves everywhere until next fall. Get your fill of Brussels while you can by roasting them into a delicious hash dressed up with crispy bacon and sweet pears. This easy recipe makes for a satisfying side dish. Simply cook the bacon lightly to render out the fat before tossing with the Brussels sprouts, then season and roast. At the last minute, add the beautiful pear chunks and the fresh thyme and warm through. Serve this dish with my Braised Pork with Pears and Sherry Vinegar for the perfect pear-inspired winter dinner.
Ingredients
5 slices thick-cut bacon, cut into ½-inch pieces
2 tablespoons olive oil
2 pounds Brussels sprouts, trimmed and halved
Salt and freshly ground black pepper
2 ripe, colorful USA Pears, such as Comice or Red Anjou, large dice
3 or 4 sprigs of fresh thyme, leaves only, roughly chopped
Directions
Preheat the oven to 375 degrees. Place the bacon pieces in a saute pan over medium heat. Cook, stirring often, until most of the fat has been rendered out and the bacon is just barely starting to get crispy in a few places (it will finish cooking in the oven). Place the halved Brussels sprouts onto a sheet pan and pour over the bacon and all of the fat from the pan. Drizzle the olive oil over the top and sprinkle generously with salt and pepper. Toss the mixture together to thoroughly coat all of the sprouts with seasoning and transfer to the hot oven.
Bake the hash for 22-24 minutes, stirring once during cooking. At this point, the bacon should be nicely crisp and the sprouts should be softened. Add the diced pears and the thyme leaves and toss together gently. Return the hash to the oven for 4 to 5 minutes just to warm the pears through. Serve immediately.
prep time: 15 minutes plus 30 minutes in the oven
yield: 4 servings