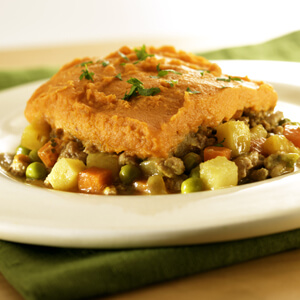 Shepherds Pie with Turkey Pears and Sweet Potatoes
This recipe puts a fresh spin on a traditional dish with the addition of sweet potatoes and fresh pears. Perfect for potlucks or weeknight dinners, this casserole will have your family fighting for the leftovers!
INGREDIENTS
2 tablespoons vegetable oil
1 large onion cut in ½-inch dice
2 cloves garlic, finely minced
1 carrot cut in ½-inch dice (about ½ cup)
1 parsnip cut in ½-inch dice (about ½ cup)
1-½ tablespoons garam masala or curry powder
2 teaspoons salt
1 pound ground turkey, chicken or lamb
1 cup chicken or vegetable stock
1 cups peas
1 firm ripe Bosc pear, peeled and cut in ½-inch dice
2 tablespoons coarsely chopped flat leaf parsley
1-½ pounds sweet potatoes, peeled and cut in chunks
⅓ cup milk
3 tablespoons unsalted butter
1 teaspoon salt
Freshly ground black pepper
DIRECTIONS
Preheat oven to 375 degrees. Heat oil in a large sauté pan over high heat. Add onion, garlic, carrots, and parsnips and cook until slightly softened, not yet translucent, about 5 to 8 minutes.
Add curry powder and stir to evenly coat vegetables before adding meat. Cook meat until browned and remove fat. Increase heat, add stock and bring to a simmer. Continue cooking until juices thicken slightly, about 10 minutes, adding peas, pears and parsley halfway through cooking time.
Pour mixture into 2-quart (8-inch by 8-inch) baking dish and bring sweet potatoes to a boil in salted water. Cook until tender.
Drain potatoes well and mash with milk, butter and salt. Season to taste with additional salt and freshly ground black pepper.
Spread potato mixture over filling and bake until golden brown, about 45 minutes.
NUTRITION
Serving Size: 8 oz
Calories: 330
Carbohydrate: 31g
Dietary Fiber: 6g
Protein: 16g