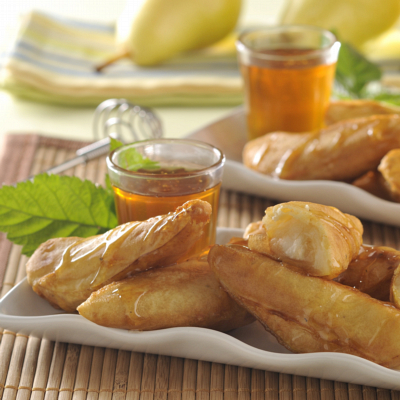 Buñuelos are similar to what we know as a fritter. These delicious Pear Buñuelos incorporate the naturally sweet flavor Forelle pear making it the perfect ending to any meal.
INGREDIENTS
4 Forelle pears
⅔ cups flour
1 tablespoon baking soda
¼ tablespoon salt
1 pinch pepper
eggs
3 tablespoons milk
lime (the juice)
Oil
Honey
DIRECTIONS
In a bowl place the flour, baking soda, salt, pepper, egg and milk; mix well until you have a smooth and slightly thick texture with no lumps; set aside in the refrigerator.
Dice the pears and soak them in lime juice to prevent oxidation.  Heat the oil in a pan.  In the meantime, batter the pear pieces in the mix; fry them until they get a golden color.  Place them in absorbent paper to remove excess oil.  Serve immediately with honey.
NUTRITION
Serving Size: 8 oz
Calories: 280
Carbohydrate: 60g
Dietary Fiber: 7g
Protein: 5g