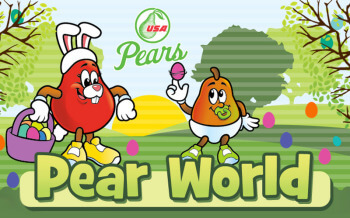 Introducing Pear World: A new online destination for kids from the growers of USA Pears
Playful new pear-themed website will educate and entertain elementary school-age children
Portland, Ore. – January 22, 2013 – Welcome to "Pear World!" The growers of USA Pears are pleased to announce the debut of this new online destination for elementary school-age children.  The website – found at http://pearworld.kidzsmart.com as well as under the "Kids and Classroom" section of www.usapears.org – brings the pear orchard to life to engage and educate children about pears, one of the most popular fruits consumed by Americans according to the FDA.  The colorful, interactive new site encourages families to include pears as they strive to make half their plate fruits and vegetables as recommended by the current Dietary Guidelines for Americans and the USDA's MyPlate initiative.
Pear World features the USA Pear mascots, the "Pear Buddies," a friendly and physically active crew of different varieties of pears, each with their own color, shape, and personality.  Popping up in eye-catching illustrations and animations throughout the site, the Pear Buddies guide children through kid-friendly recipes, activities, and information.  Kids and parents alike will enjoy Pear World's visual playfulness, which includes an interactive "Living Orchard" that changes with the seasons – just like life in a real pear orchard. Holidays are also celebrated in the Living Orchard – regular site visitors will be rewarded with special décor and animations, from tree ornaments to fireworks.
In addition to the Living Orchard, the site features three rooms to explore:
The Pear Orchard

– Kids will come here to learn about the ten different varieties of USA Pears, where they are grown, and how they get from the orchard to the grocer.
The Pear Kitchen

– This section is full of pear recipes that kids will love to make and eat, plus it includes kitchen safety tips and a kid-friendly introduction to cooking tools and utensils.
The Pear Lab

– With arts and crafts, hands-on educational 'experiments,' and fun games, this section is sure to be popular with kids, parents, and educators.
"We are pleased to offer this unique online destination to kids and families who are ready to have some fun with their pears," said Cristie Mather, director of communications for USA Pears.  "We know that kids are more likely to eat healthy fruits and vegetables if they have the opportunity to be hands-on in the kitchen or at the arts-and-crafts table.  Pear World is a fun place where kids can roll up their sleeves and really interact with pears in the virtual orchard and in their real kitchen at home."
Cheryl Fisher, account executive at Kidzsmart Concepts (www.kidzsmart.com) who designed the digital experience in partnership with USA Pears, is thrilled at the potential benefits available to families through the site. "Our goal was to create a captivating experience for both kids and parents that educates as well as entertains, by engaging visitors with a space for interactive exploration. The playfulness of the content simply makes learning about the health, nutrition, variety and value of pears more fun," said Fisher.  "It was equally important to design the experience for the desktop as well as for mobile devices ­reflecting the increased usage of smart phones and tablets, especially among parents."
About Pear Bureau Northwest and USA Pears
The Pear Bureau Northwest was established in 1931 as a nonprofit marketing organization to promote the fresh pears grown in Oregon and Washington.
Today, the United States is the second largest pear-producing country in the world, and Oregon and Washington comprise the nation's largest pear growing region with 1,600 growers producing 84% of all fresh pears grown in the United States. Pears grown in these two Pacific Northwest states are distributed under the "USA Pears" brand.
Pears are an excellent source of fiber (24% DV) and a good source of vitamin C (10% DV) for only 100 calories per medium sized pear.  Sweet and juicy with no fat, no sodium, and no cholesterol, pears are a perfect choice for a snack as well as for any course of any meal of the day.
To learn more visit www.usapears.org, and follow USA Pears on Facebook at www.facebook.com/usapears and Twitter @USApears.
# # #
Contact:
Kathy Stephenson
Pear Bureau Northwest
530-652-9720