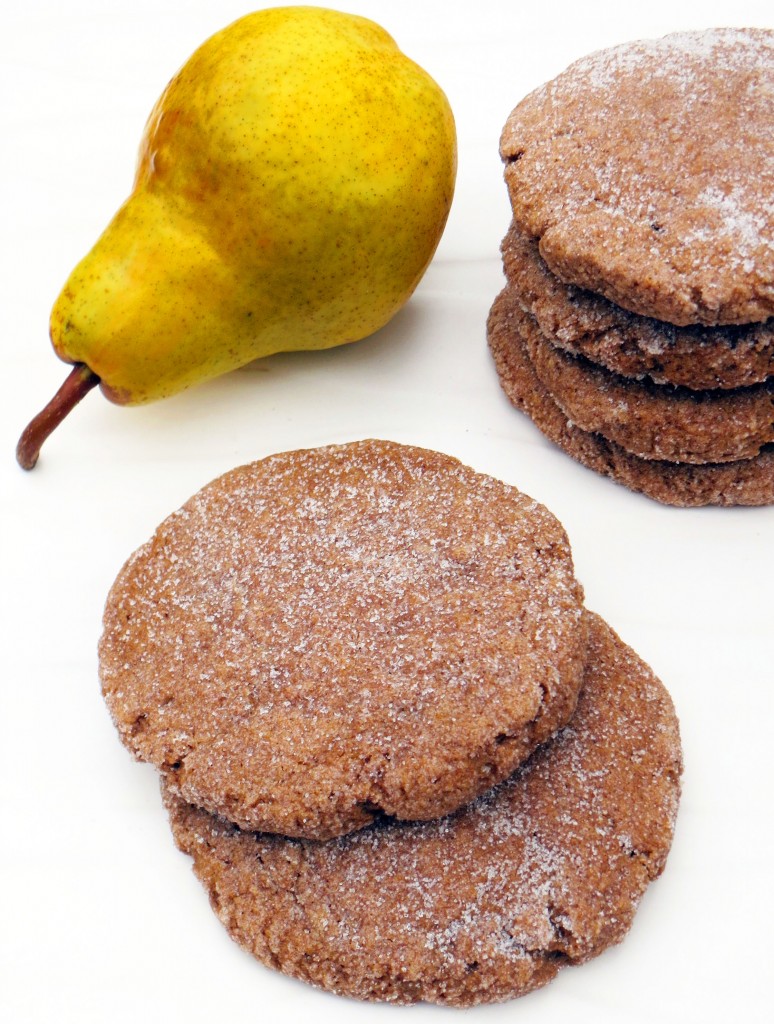 These delightful fall cookies are reminiscent of a classic soft molasses cookie, but are made with less than half of the sugar in a typical recipe. Pear puree stands in for much of the sugar, adding a wonderfully unique pear flavor to the cookies, along with fiber, vitamins, and minerals. Bake off a batch of these tender cookies and store the extras in the refrigerator for packing into lunches or for after school snacks.
Ingredients:
6 tablespoons unsalted butter, melted
¼ cup packed light brown sugar
1 egg
1 cup pear puree (from about 2 ripe USA Pears, such as Red or Green Bartlett, diced and
pureed in a blender until smooth)
¼ cup molasses
2 ¼ cups whole wheat pastry flour
1 teaspoon cinnamon
1 teaspoon ground ginger
½ teaspoon cloves
½ teaspoon baking powder
½ teaspoon salt
granulated sugar, for rolling
Directions:
In a large bowl, combine melted butter and brown sugar and whisk to combine. Add egg, one cup of the pear puree, and molasses and whisk again until smooth. In a second bowl, combine the flour, spices, baking powder, and salt, and stir to mix. Add the dry ingredients to the wet and stir until the mixture comes together to form a soft dough. Refrigerate the dough until firm, at least one hour.
When you are ready to bake the cookies, preheat the oven to 375 degrees. Prepare a small bowl of granulated sugar for rolling the cookies. Roll the chilled dough into 1 ½ inch balls and roll in the granulated sugar, placing the cookies onto greased baking sheets as you go. Lastly, flatten the cookies slightly with the bottom of a drinking glass that has been dipped in the remaining sugar to prevent sticking. Bake the cookies for 11-13 minutes, rotating once during cooking. Allow to cool before removing from pans.