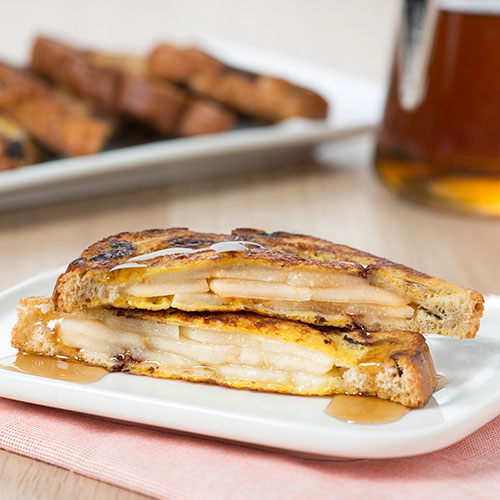 Buttery Comice pears are generally not used in cooking, but create a custardy rich filling in this luscious stuffed French toast. Using cinnamon swirl bread adds plenty of spice and a hint of sweetness. Recipe developed by Amy Sherman.
Ingredients
4 slices cinnamon swirl bread, 1 inch thick
1 ripe Comice USA Pear
2 eggs
1 cup whole milk
1 teaspoon unsalted butter
Maple syrup or powdered sugar
Directions 
Using a sharp bread knife, cut a pocket in one end of each slice of bread. The pocket should leave a border of about one inch from the sides of the bread.
Peel the pears, cut in half and core them. Working over bowl, use a knife or the vegetable peeler to cut the pear into very thin strips. Spread open the pocket in the bread and fill it with pear slices using a butter knife.
Transfer stuffed bread to a baking dish large enough to hold all the slices in a single layer. In a medium bowl, beat together milk and eggs and pour over the bread. After 5 minutes, flip the bread and using a fork, prick the bread to help it absorb the liquid. Repeat. Allow the bread to absorb all the liquid, about 15 minutes.
Melt butter on non-stick griddle or skillet over medium heat. Fry the French toast in two batches until golden brown and cooked through, about 3 minutes per side. Serve with maple syrup or dust with powdered sugar.
prep time: About 20 minutes
cooking time: 6 minutes
yield: Serves 4