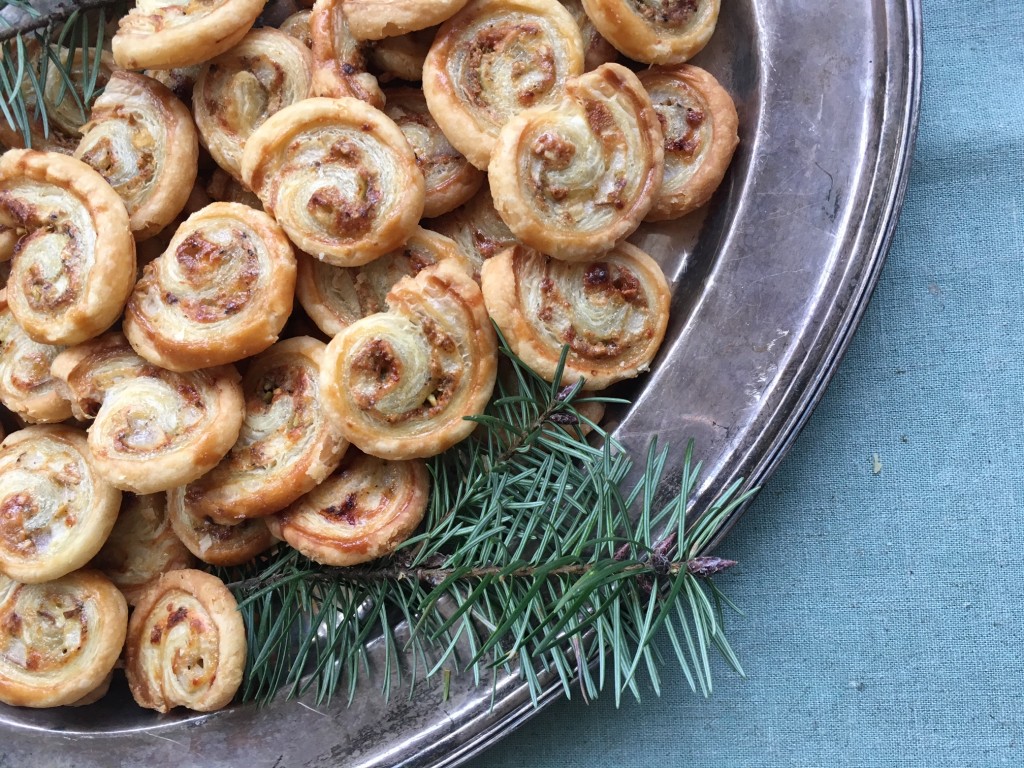 You'll be the host with the most when you present these warm, flaky hors d'oeuvres to guests on New Year's Eve. Diced USA pears are rolled up in puff pastry, with crunchy pistachios, piquant Parmesan, and a kick of cracked pepper, creating bite-sized bursts of flavor. Deceptively simple to prepare, and sweet and savory at the same time, they make the perfect cocktail accompaniment.
1 sheet frozen puff pastry (half a 17.3-ounce package), thawed
1 large egg, lightly beaten
1 cup finely diced USA Red Anjou or Bartlett pear (about ½ a large pear)
¼ cup ground pistachios
¼ cup freshly grated Parmesan cheese
1 teaspoon coarsely ground black pepper
Place the pastry sheet on a clean work surface and roll it out to smooth the seams and create a 10-inch square. Cut the square in half, forming two 10-by-5-inch rectangles. Brush the entire surface of each half of the pastry lightly with some of the beaten egg. Leaving a 1/2-inch border along a longer edge of each rectangle, sprinkle with the pears, pistachios, Parmesan, and pepper, dividing each ingredient evenly between the two.
Starting at the long side opposite the plain border, roll up each pastry like a jelly roll, pressing gently to seal the ends, creating a long log. Wrap each log individually in plastic wrap and chill in the freezer until firm, at least 1 hour and up to 3 days.
To bake, position racks in the top and bottom thirds of the oven and preheat it to 400°F. Line 2 large baking sheets with parchment paper.
Cut each pastry log crosswise into about 24 round pinwheels. Arrange the pinwheels on the lined baking sheets, spacing them about 1 inch apart. Bake until the pinwheels are puffed and golden brown, about 20 minutes, rotating the pans from top to bottom in the oven about halfway through.
Cool briefly on the pans, and serve warm. Makes 48 hors d'oeuvres.