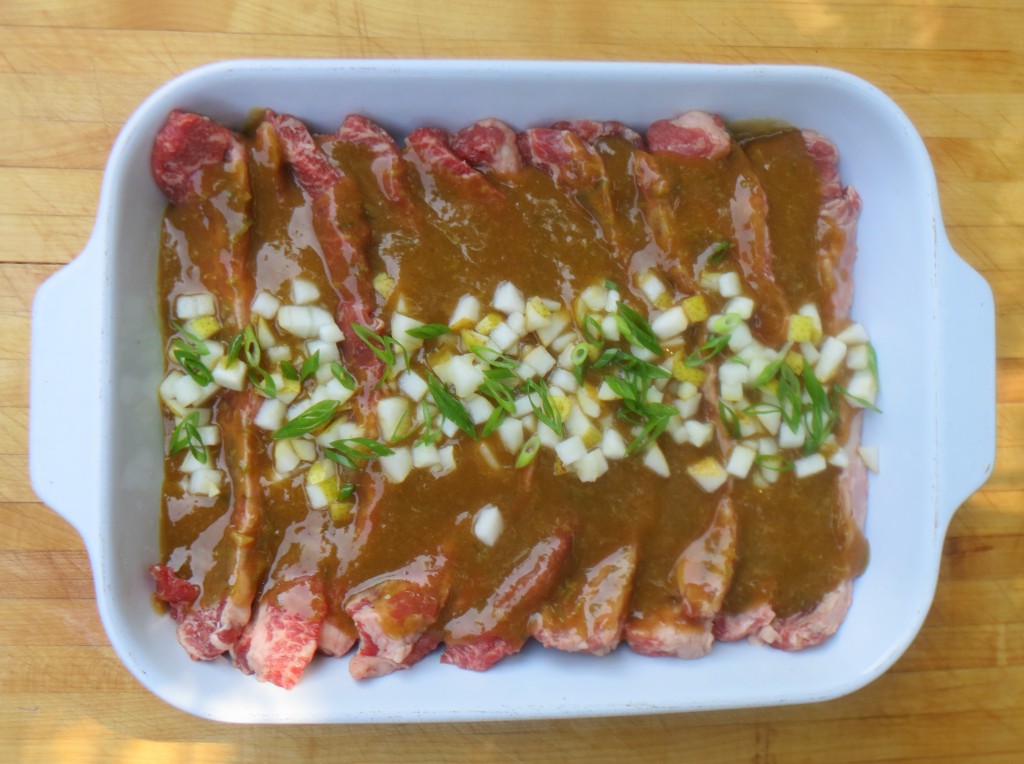 This recipe is a riff on classic Korean barbecued ribs. Pears provide most of the sweetness for the marinade, with the toasty flavor of sesame oil and a hint of savory garlic coming through. If you can't find cross cut ribs, this sauce is equally delicious on beef or pork kabobs. After marinating, grill these beauties over a hot fire and serve with steamed rice and a side of kimchi or a simple cucumber salad seasoned with rice vinegar.
Ingredients
12 beef ribs, kalbi-style (sliced across the bone)
¼ cup hoisin sauce
3 tablespoons rice vinegar
3 tablespoons mirin
2 ripe USA Pears, such as Bartlett or Bosc, quartered and cored
3 scallions, cut into 2-inch lengths
1 medium clove garlic
1 tablespoon sesame oil
For garnish
3 scallions, thinly sliced
2 tablespoons toasted sesame seeds
Directions
Wash the ribs in cold water and pat dry with paper towels. Place into a large, shallow baking dish in a single layer. In a blender, combine the remaining ingredients and puree until smooth. Pour the marinade over the ribs, cover them with plastic wrap, and refrigerate for between 4 and 24 hours.
When you're ready to cook the ribs, preheat your grill to medium high. Cook the ribs for 3 to 5 minutes per side, depending on thickness, or until they are nicely grill-marked and cooked through. Transfer the ribs to a platter and sprinkle with the scallions and sesame seeds.
prep time: 25 minutes plus marinating time
yield: 4 – 6 servings