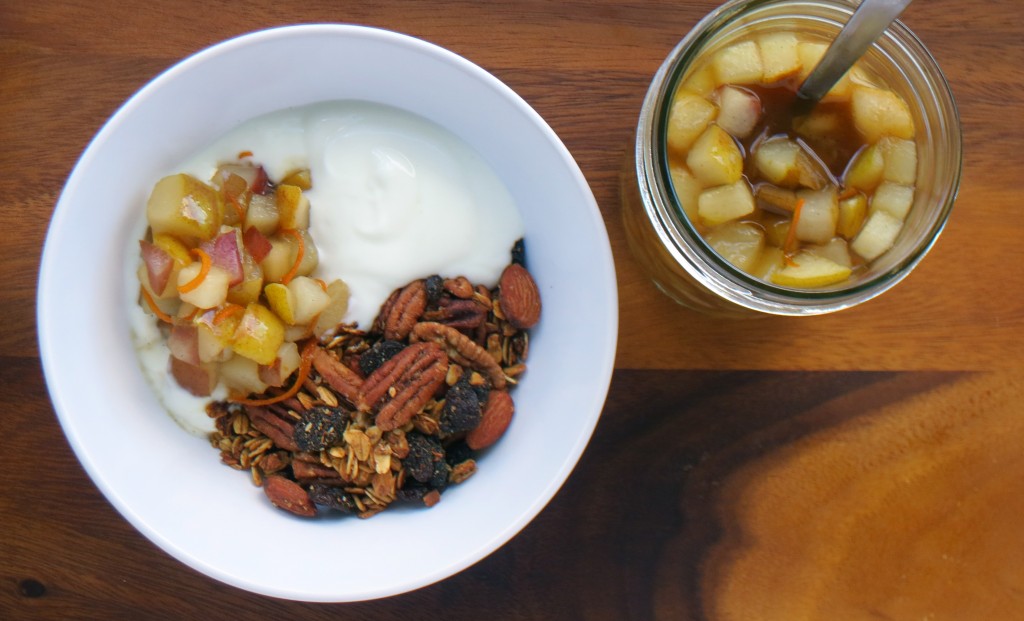 This super simple compote is a beautiful and delicious way to preserve some of fall's fading flavors. You'll make a simple infusion which combines the unique flavor of Earl Grey tea with vanilla and orange, and then simply stir in sugar and fresh pears. Serve this compote over yogurt or ricotta for a delightful breakfast or snack, spoon it over vanilla ice cream, or try it atop crostinis spread with your favorite soft cheese.
Pear Compote with Earl Grey & Vanilla
Ingredients
1 cup boiling water
2 Earl Grey tea bags
1 orange
1 tablespoon vanilla paste
¾ cup sugar
3 firm ripe USA Pears, such as Comice or Red Anjou, small dice
Directions
Place the tea bags into the cup of boiling water and steep for 2 to 3 minutes to make a very strong tea. Remove the teabags and discard. Peel two long strips of zest from the orange using a vegetable peeler. Stack them on top of one another and slice them on a diagonal into very thin strips. Slice the orange in half and squeeze the juice into a medium saucepan. To the same saucepan add the tea, orange zest strips and vanilla paste, and bring to a simmer over medium-high heat. Continue to simmer the mixture, uncovered, for 5 – 7 minutes or until reduced by half. Once reduced, add the sugar and stir to dissolve. Return to a simmer and cook for 2 minutes (but no longer) to lightly caramelize the sugar. Stir in the diced pears, cover, and cook for another 5 – 7 minutes until the pears are just tender. Allow to cool for one hour and then transfer to a pint jar, being sure the pears are submerged in the syrup, and refrigerate (the compote will thicken considerably as it cools). Store in the refrigerator for up to one month.
Prep time: 20 minutes
Yield: 1 pint of compote