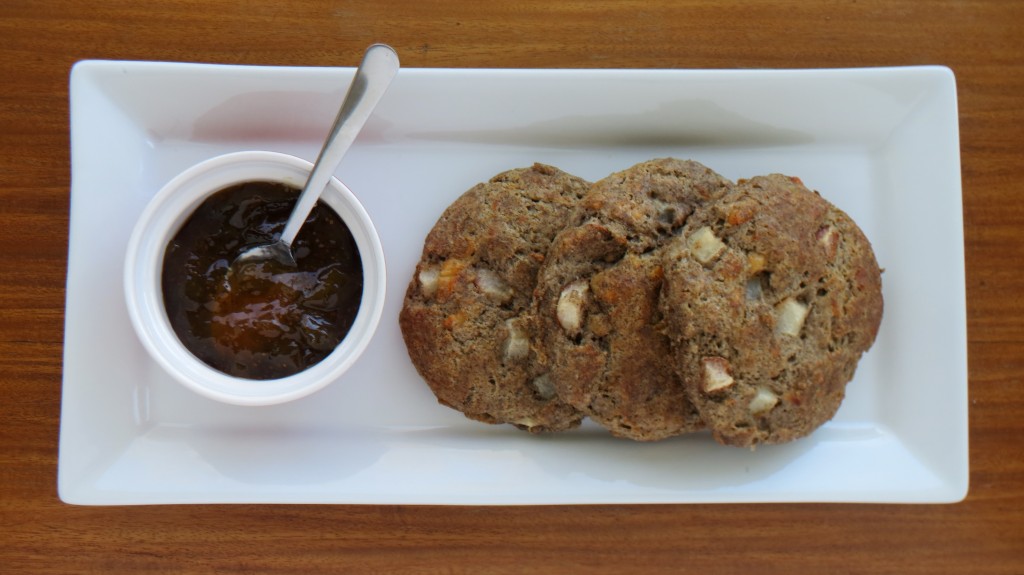 Do you have company coming for Easter brunch? Alongside the ham and asparagus, serve these delightfully unique savory scones. Honey-sweet pears, nutty buckwheat, and tangy Gouda cheese are a match made in heaven. Offer the scones with a side of fig jam and watch how quickly they disappear.
Pear, Buckwheat, and Gouda Scones with Fig Jam
Ingredients:
1 ¼ cups all purpose flour
¾ cup buckwheat flour
¼ cup sugar
⅛ teaspoon ground nutmeg
2 teaspoons baking powder
¼ teaspoon salt
6 tablespoons cold, unsalted butter, cut into small cubes
6 ounces firm, aged gouda cheese, grated
2 ripe USA Pears, such as Red Anjou or Bosc, small dice
¾ cup buttermilk (plus 2 tablespoons more if necessary)
Fig jam, for serving
Directions:
Preheat the oven to 400 degrees. In a food processor, combine the flours, sugar, nutmeg, baking powder, and salt and pulse to combine. Add the cold butter and the cheese and pulse briefly 8 – 10 times, or until the mixture becomes crumbly. Transfer to a large bowl, add the diced pears, and stir gently to combine. Make a well in the center of the mixture and pour in the buttermilk. Using a fork, gently bring the mixture together until just combined, adding more buttermilk if necessary. The mixture should be moist and crumbly, but not sticky. Turn the scone dough out onto a lightly floured board and using floured hands, gently press into a circle about ¾ inch tall. Using a 2 to 3 inch floured biscuit cutter or glass, cut as many scones as you can from the dough and gently transfer them to a baking sheet, leaving at least one inch of space between each scone. Gather the remaining dough and press into a circle again, continuing to cut out scones until all of the dough has been used up. Bake the scones for 22-25 minutes, or until a toothpick inserted into the center of a scone comes out clean. Allow the scones to cool for at least 15 minutes and serve with the fig jam.
Prep time: 20 minutes, plus baking
Yield: 8-12 scones