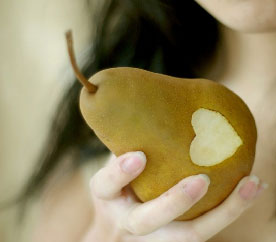 February is American Heart Month, and taking care of yourself and the ones you love is the perfect way to say I love you this Valentine's Day. According to the Million Hearts® Healthy is Strong campaign, heart disease is the leading cause of death in men and women. Instead of giving your sweetie chocolates this Valentine's Day, why not give your heart? For men and women, one small change can add up to one healthy heart!
One simple way to boost heart health is with physical activity. No, you don't have to run five miles every day, but increasing activity slowly, such as a romantic walk with your sweetie, improves cardiovascular health. As a rule of thumb, aim for 150 minutes of activity each week – and if you #PearUp with a partner, you're more likely to stick to your plan!
Another quick fix is to add in heart-y foods to your diet, such as fresh fruits, vegetables, no salt added nuts and seeds, fish, and healthy oils, such as olive or canola. To keep it simple, try a piece of fruit for a snack, such as the delicious Anjou, Bosc or Bartlett pear – all American Heart Association Heart-Check certified for health. For a delectable option that still feels sinful, try sliced pears drizzled with dark chocolate. Yum!
So this February when love is in the air, remember that a healthy heart is a strong heart! Visit Healthy is Strong or Go Red for Women for more tips to take charge of your heart health.