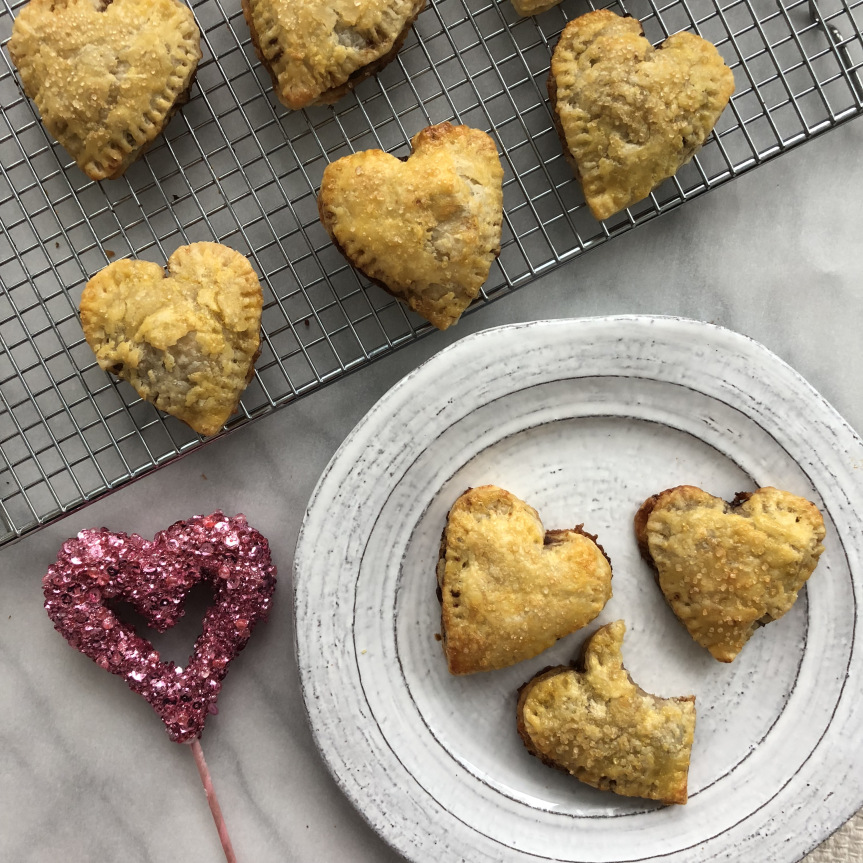 I had heard rumblings about the glory of pairing pears and chocolate in pie. I mean, they're both two delicious things, so how could it not be amazing?
I also loved how portable these hand pies are. They're so easy to just hold in your hand and completely devour in five seconds while watching Netflix with bae (or by yourself…any situation really).
Some ingredient notes: I used a combination of Bartlett and Bosc pears. For chocolate, I used semi-sweet chocolate chips, but if you have some REALLY good chocolate laying around (like some Valrhona discs…) you should totally go for it.
TREAT YO-SELF!
Ingredients:
Crust (crust recipe adapted from Four and Twenty Blackbirds)
2 1/2 cups all-purpose flour
1 tsp sea salt
1 tbsp sugar
1 cup butter (straight from the fridge, cut into 1-inch pieces)
1 cup cold water
1/4 cup vinegar (I use cider vinegar, mix it in the water)
Filling 
1/4 cup cream
4 oz semi-sweet chocolate, roughly chopped
4 cups peeled, cored and diced Bartlett or Bosc pears (this should be a relatively fine dice, see pictures below)
Juice of 1 lemon
2 tbsp granulated sugar
2/3 cups packed brown sugar
2 tbsp flour
1/2 tsp cinnamon
Pinch of allspice
Pinch of cardamom
1/2 tsp sea salt
1/2 tsp vanilla
Directions:
To make the crust, mix together flour, sugar and salt. Using a pastry blender, "cut" in the butter. This means you're almost mashing the butter into the flour with the blender, ensuring all butter is covered in flour until the butter pieces are about the size of peas or a bit bigger.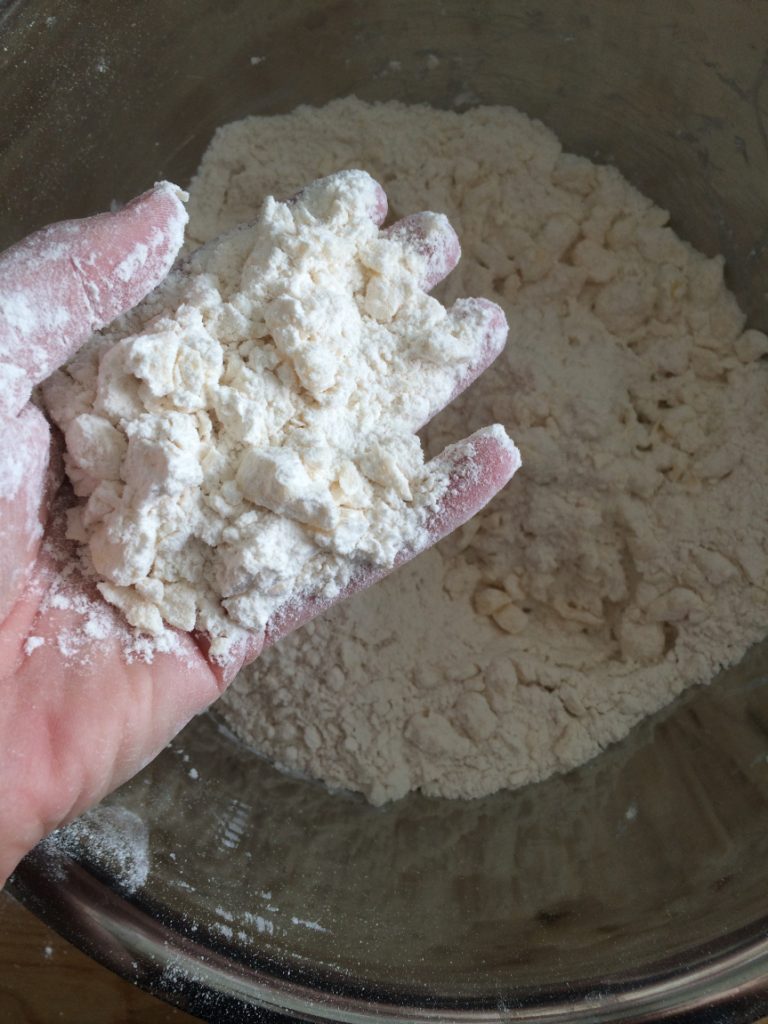 Then, splash in a bit of your water mixture (2-3 tablespoons) and mix it around with your hand. Continue to add a little at a time and mix and squish with your hand until a large dough ball forms. If you need to get a bit more binding, add a bit of water to your fingers to help it along. Don't feel compelled to use all the water, mix it in until just combined and the dough is holding together. Cut the dough ball into two halves and flatten into disks. Wrap and refrigerate for at least an hour.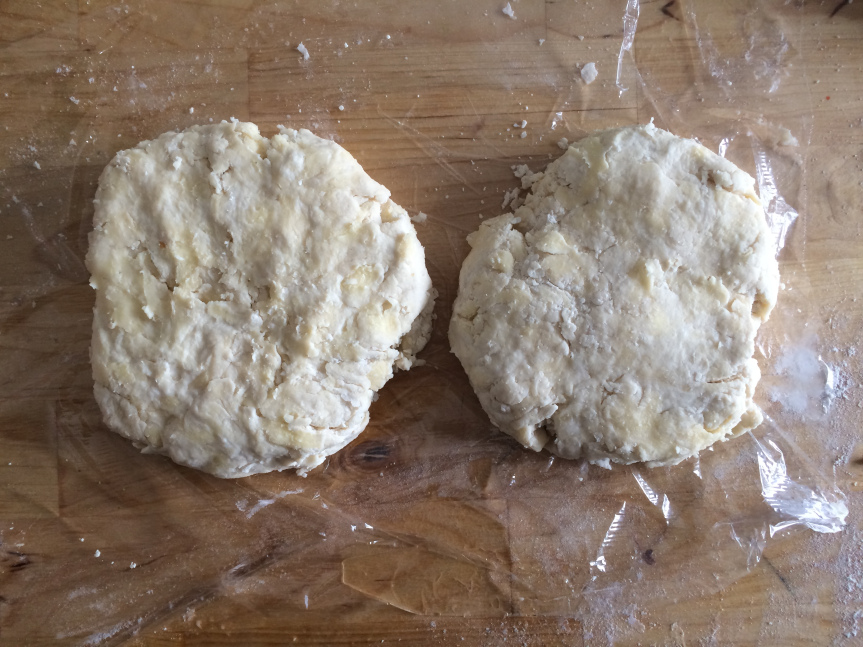 Meanwhile, make chocolate ganache. In the microwave or on a stovetop, bring cream to an almost boil and pour over chopped chocolate in a heatproof bowl. Let sit for a minute, then whisk together until smooth. Set aside.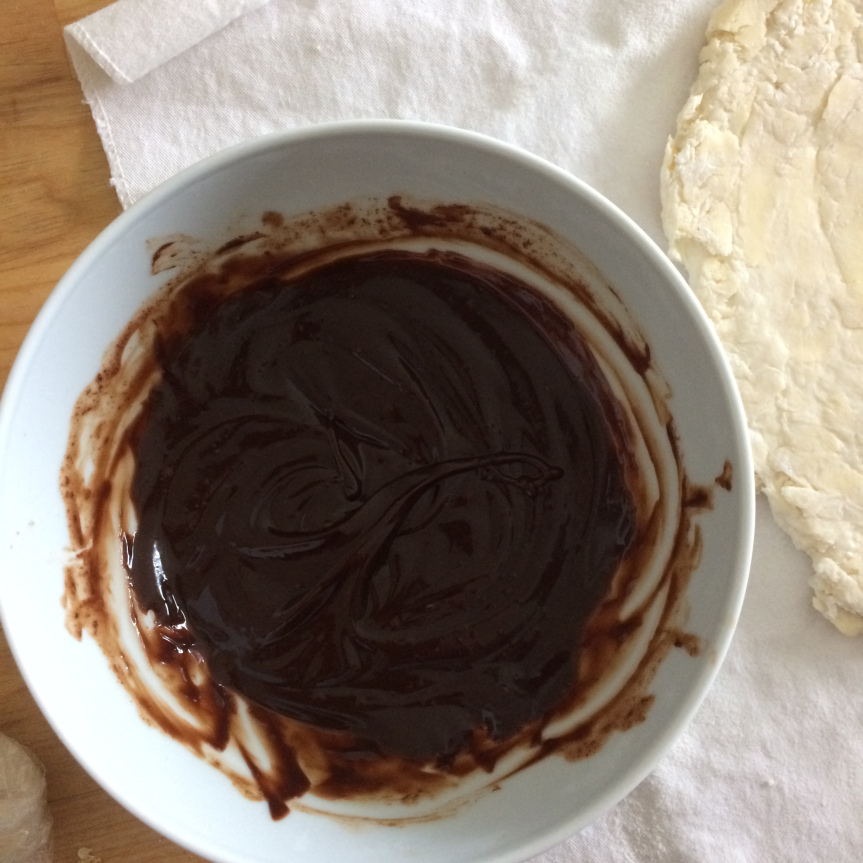 Remove dough disks from fridge and let sit for 5-10 minutes so the dough doesn't crack. Roll out each disk on a floured surface circle about 12-13 inches in diameter. Use a heart cookie cutter to cut out dough hearts and refrigerate on a parchment-lined baking sheet while making the filling.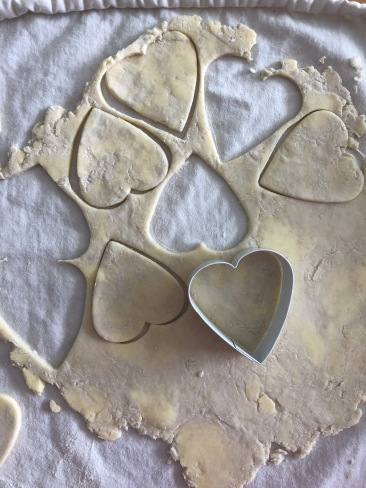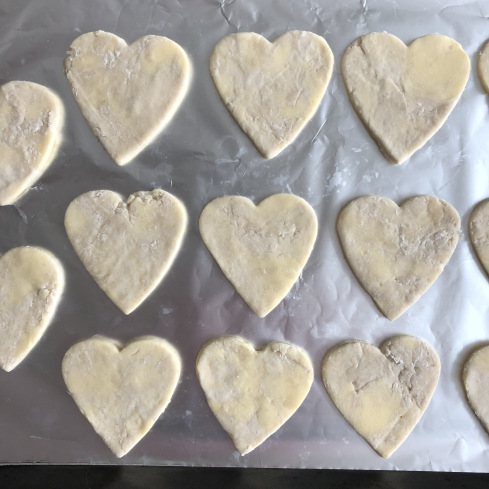 In a large bowl, toss together diced pears, lemon juice and granulated sugar with your hands and let the mixture sit for 20 minutes. In another bowl, mix together brown sugar, flour, spices and vanilla. Drain excess moisture from pear mixture and sprinkle sugar mixture on top. Toss with your hands until pears are evenly coated.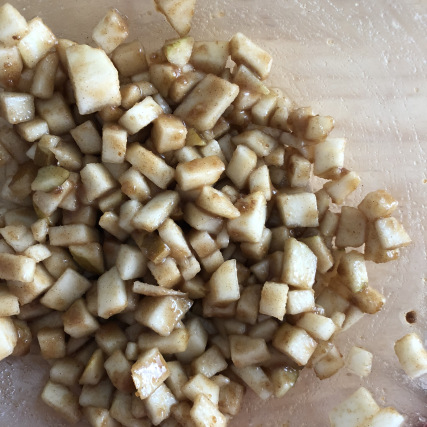 To assemble the hand pies, take one heart and spread a thin layer of ganache onto the middle of the dough. Spoon about 1 tbsp of filling on top of the ganache, like below.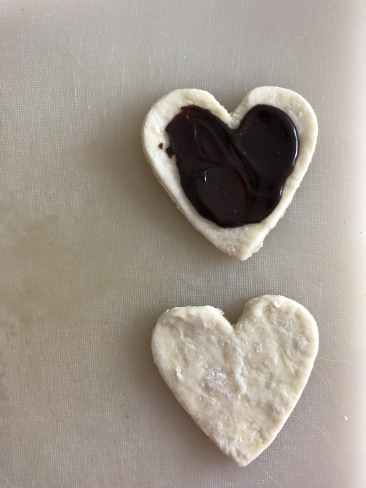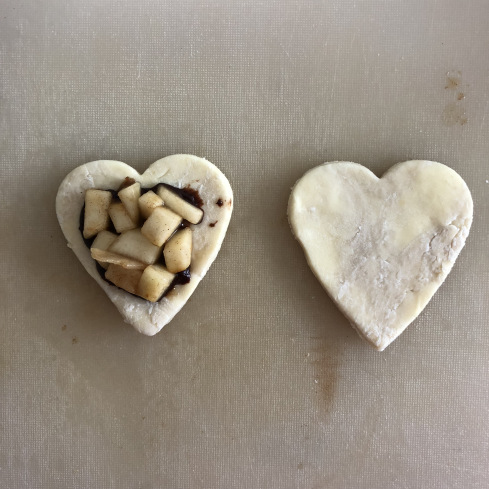 Place a second dough heart on top of the pear layer, sealing the edges of the dough together with the tines of a fork.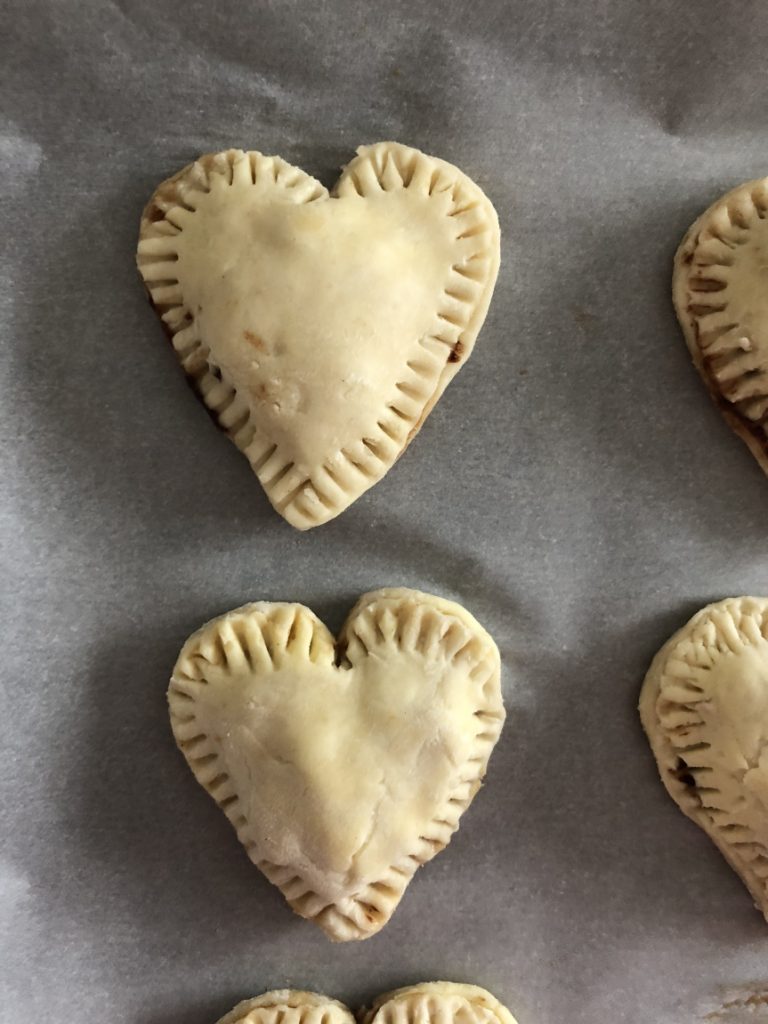 Repeat with remaining dough hearts and refrigerate assembled pies on a parchment lined baking sheet for 10 minutes.
Brush the tops of the hand pies with egg wash and sprinkle with raw sugar. Bake at 400F for 20-25 minutes, until golden brown. Cool on a wire rack for at least 10 minutes.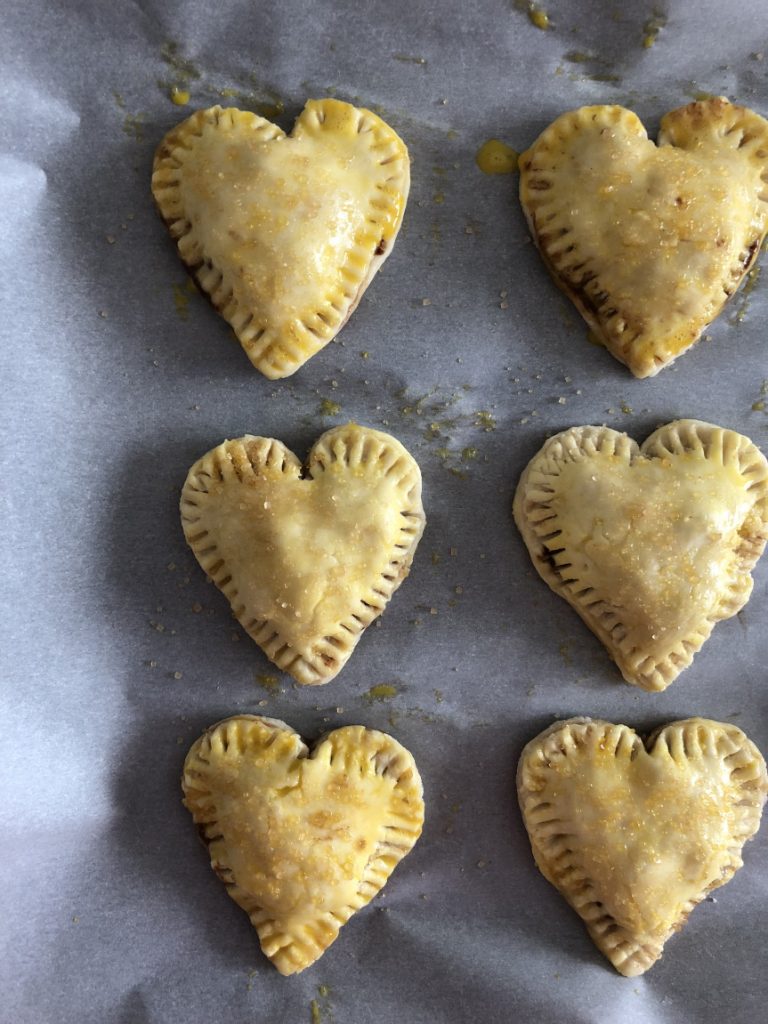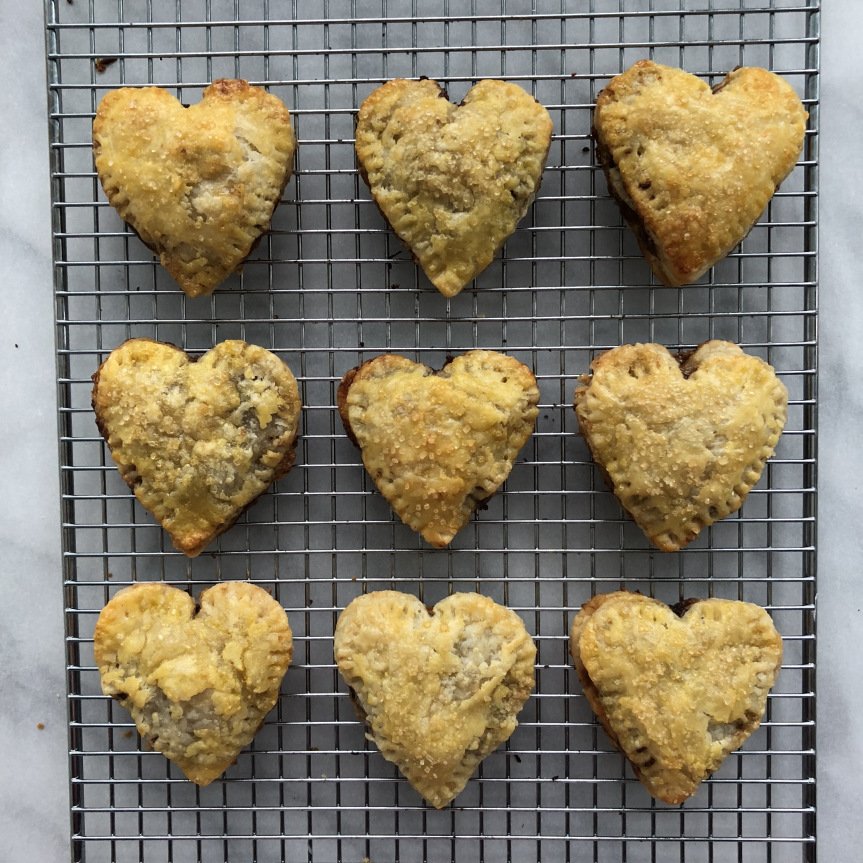 Recipe and photography by Ellie Hannaford of Pie Girl Bakes.
Want more pear recipes? Visit our recipe page!
Make sure to follow USA Pears on Facebook, Twitter and Instagram for all things pears!