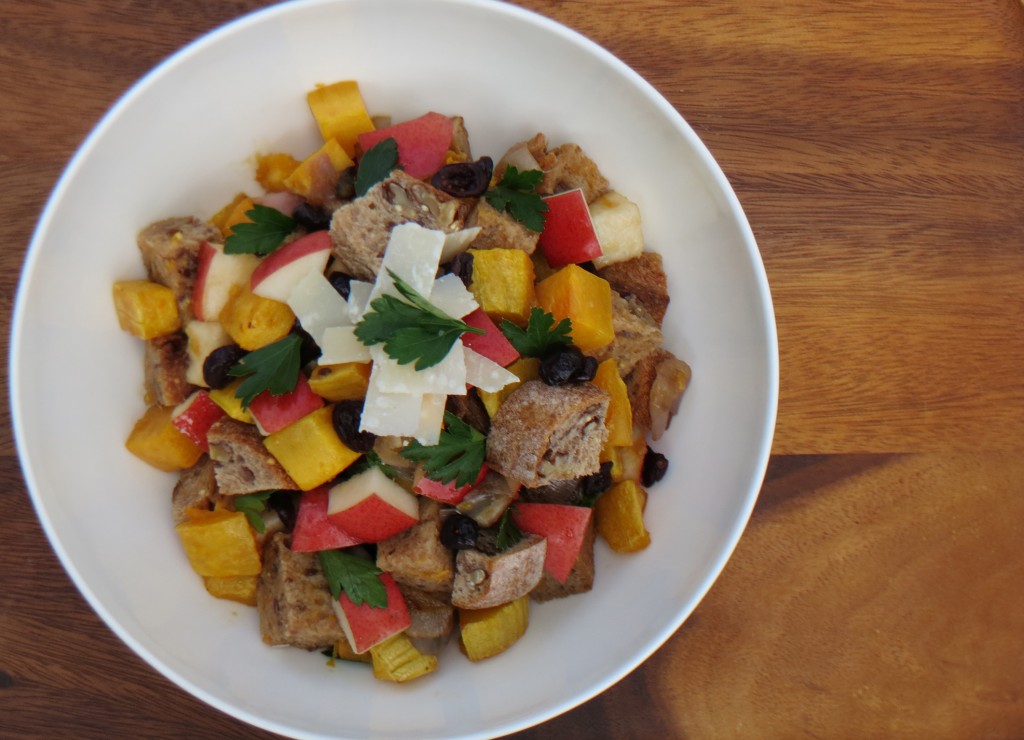 Based loosely on a traditional panzanella salad which combines garden fresh tomatoes with crusty bread to soak up the juices, this savory autumn panzanella features ripe, in-season pears, roasted butternut squash, and hearty walnut bread. Serve this salad throughout the fall and winter while pears and squash are abundant. It will also make a delicious and colorful addition to your Thanksgiving table.
Ingredients
1 small butternut squash, cut into ½-inch cubes (to yield 4 cups of cubed squash)
2 large shallots, peeled and cut into ¼-inch slices
3 tablespoons olive oil for roasting squash PLUS 2 tablespoons for the salad
Salt and pepper
4 cups cubed whole grain walnut bread from your favorite bakery
¼ cup dried cranberries
1 tablespoon balsamic vinegar
2 tablespoons real maple syrup
2 firm ripe USA Pears, such as Bosc or Red Anjou, medium dice
1 tablespoon roughly chopped Italian parsley
¼ cup shaved parmesan cheese
Directions
Preheat the oven to 400 degrees. Combine the cubed squash, sliced shallots, and 3 tablespoons olive oil on a baking sheet. Season generously with salt and pepper and toss to coat. Spread into a single layer and roast in the oven for about 25 minutes or until the squash is soft and the shallots are beginning to brown. While the squash roasts, use a serrated knife to cut the bread into ½-inch cubes as well. Spread the bread cubes onto a second baking sheet and place in the oven. Toast the cubes lightly, for 5-7 minutes total, while the squash roasts. Allow the squash to cool slightly (or to room temperature) and then transfer to a large bowl. Drizzle the squash with the additional 2 tablespoons of oil, balsamic vinegar, and maple syrup. Toss gently to coat. To the bowl, add the toasted bread cubes, dried cranberries, diced pears, and parsley. Toss the mixture together gently once again and transfer to a large platter or bowl. Sprinkle the shaved parmesan cheese on top and serve immediately.
prep time: 45 minutes including roasting
yield: 6 – 8 servings