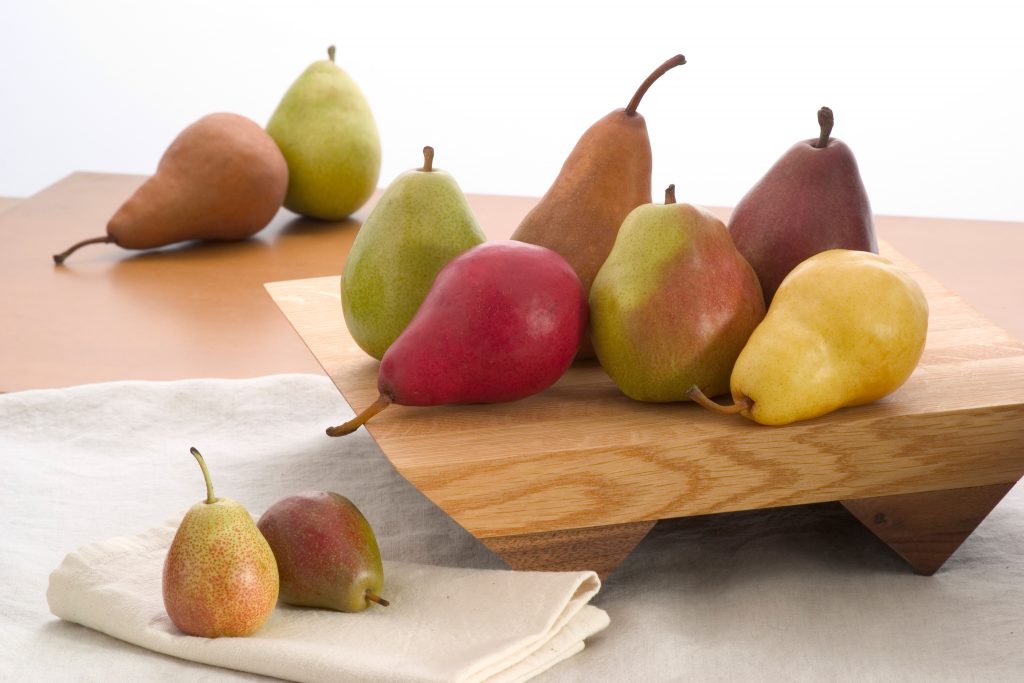 November is National Diabetes Month and it's also a great time to find perfectly ripe pears, which comes in handy since pears have a lot of the attributes we recommend in a diet to prevent and treat type 2 diabetes. Pears are a low glycemic index (and low glycemic load) food – a medium-sized pear ranks 38 on the glycemic index – which means they have a mild effect on blood sugar levels. While there isn't a cure for diabetes (yet!), we do know that food is a very powerful tool that can be used to reduce symptoms and improve overall quality of life. As registered dietitians, we see the power of food every day, and the research supports just how much of an effect food can have on reducing the impact of diabetes.
Whether you've been diagnosed with type 2 diabetes, pre-diabetes, or want to make some preventative dietary changes, we think including pears in your diet is a great idea. Here's why:
Fiber. Soluble fiber, the type that binds with water to form a gel-like substance in your digestive tract, slows the rate that your body pulls glucose from food in your stomach. In other words, soluble fiber can help slow down the rate at which your blood sugar rises. A medium pear contains 6 grams of fiber (24% of your daily needs), and some of that 6 grams is in the form of soluble fiber! From a preventative perspective, eating a diet rich in high fiber foods (like pears) might reduce the risk of developing type 2 diabetes.
Flavorful sweetness. Reducing added sugar is an important part of keeping blood sugar levels stable at meals and snacks and avoiding spikes, or quick rises, in blood sugar levels. When you use pears to add flavorful sweetness to things like plain oats or yogurt, you get sweetness along with lots of flavor, so you wind up needing to use a lot less sugar (and oftentimes you won't need any sugar at all!). Pears also add natural sweetness to smoothies and peanut butter sandwiches, so you can skip the added sweeteners altogether.
Kitchen creativity and fun. Being diagnosed with diabetes can feel overwhelming when it comes to revamping your food choices to keep your blood sugar levels more stable. Pears are a delicious way to add flavor and fun to your time in the kitchen, whether it's diced in a chicken salad, sliced in a turkey sandwich, or "pear-ed" with aged cheddar cheese for a snack. A diabetes diagnosis might mean changes to the way you eat, but it certainly doesn't have to mean bland or boring meals and snacks!
For additional information on pears and diabetes, check out this link.